2012 Global Health Fellows
Prepare for Deployment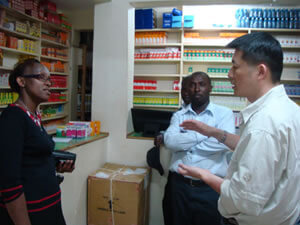 Colleagues serving in Pfizer's 2012 Global Health Fellows (GHF) program will begin their three- to six-month deployments in March.
Through the program, Pfizer colleagues volunteer for short-term assignments with international development agencies that work to address health issues and improve care in underserved communities.
The 24 Fellows hail from six countries and will serve their fellowships in seven countries in East Africa and Asia, which reflects the GHF programýs new focus on those parts of the world, a streamlined list of partner organizations and supporting the companyýs business goals.
The GHF program now includes three types of fellowships:
Supply Chain Fellows

aim to optimize supply chains so that Pfizer's medicines and products are distributed safely and effectively from the point of production to the patient.

Prevention Fellows

work to advance promising approaches related to combating infectious and noncommunicable diseases.

Entrepreneur Fellows

focus on increasing the organizational capacity of partner organizations in ways that improve the effectiveness or range of their services.
"The Global Health Fellows program is not about charity," said Caroline Roan, Vice President, Corporate Responsibility and Reputation. "This is a terrific development opportunity for colleagues to share their skills with nongovernmental organizations in the developing world, and then return to Pfizer with even broader skills and a deeper appreciation of how we are working together for a healthier world."
More than 270 Pfizer colleagues from 25 Pfizer sites have served as Global Health Fellows since the program's launch in 2003.
Click here to read more about the Global Health Fellows program.