"To bring about transformation, you can't focus all one way or the other. You have to encourage dialogue," noted Dr. Bernice King, daughter of Coretta Scott King and Dr. Martin Luther King, Jr., sharing thoughts on her parents' legacies amid a packed room of Pfizer colleagues.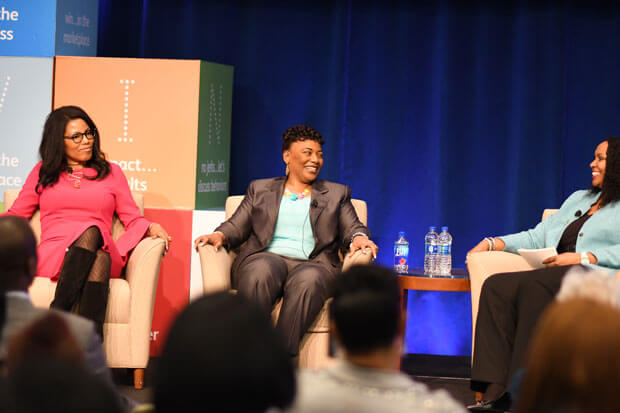 On February 20, the Pfizer African-American Leadership Network (PAALN) welcomed Dr. King and Ilyasah Shabazz, daughter of Dr. Betty Shabazz and Malcolm X, to Pfizer's New York headquarters for a conversation entitled, "The Seeds of Change: A Conversation with the Daughters of the Civil Rights Movement." Marking one in a series of PAALN events honoring Black History Month, their discussion ranged from the public and private personas of their fathers, the inspirational roles of their mothers in the Movement, and the closeness of their families over time. They also expounded on their ongoing efforts to help guide and educate within and between communities so, as Ms. Shabazz described, " future generations can realize the benefit of this work."
As the audience reflected on historical milestones and social changes in the 50 years following the assassinations of these influential men, PAALN commemorated its own anniversary, celebrating 10 years of fostering inclusivity, support, and service through talent management, colleague development, and community outreach. With nearly 500 members across Pfizer sites, PAALN has helped build a strong foundation for Pfizer's continued success.