MEET TARAH
Tarah, a wife and mother who was diagnosed with metastatic breast cancer (MBC) when she was 32 years old, is the newest Breast Cancer: A Story Half Told participant.
The diagnosis wasn't a complete shock to her or her family as many of her relatives, including her father, had been diagnosed with cancer over the years. Given her family history and age at diagnosis, Tarah's doctors recommended that she undergo genetic testing. Tests revealed she was a carrier of the BRCA2 and CHEK2 mutations.
"I wish I would have known about genetic testing sooner, because I could have been more proactive than reactive with my treatment plan," says Tarah. "The more I know about it, and understand it, the more well-equipped my family can be."
Dealing with any breast cancer diagnosis can be incredibly taxing on the patient, but there is an added layer of complexity when confronted with the additional implications a hereditary breast cancer diagnosis can have on a patient's family.
"I was very concerned for myself for having those two gene mutations, but I think the biggest concern for me are my children," says Tarah.
The burden of metastatic breast cancer hasn't stopped Tarah from living her life to the fullest though. She continues to work full time through the course of her treatment and remains active in her kids' lives—whether it's taking her daughter to dance class, watching her son's Little League games, or spending a day at the park.
"It affects my husband, it affects my children, it affects my best friends. I've seen too many people cry over what I'm going through, and I don't want that, you know, and I want us to enjoy the days that we're able to enjoy."
Watch below to learn more about Tarah:
 
UNDERSTANDING HEREDITARY BREAST CANCER
Some breast cancers are thought to be hereditary, caused by abnormal genes passed from parent to child. Although there are several inherited genetic mutations linked to breast cancer, BRCA1and BRCA2are the most studied and the most common.
To determine if breast cancer is caused by a genetic mutation, patients can undergo genetic testing. However, genetic testing rates among people with breast cancer are low,i,iiand research suggests many breast cancer patients are not tested if not specifically recommended by their doctor.i
People like Tarah, whose MBC can be attributed to inherited genetic mutations, face unique challenges gaining access to genetic testing and counseling and coping with the reality that others in their family may be at risk.
In considering these unique challenges, it is important that we continue to build upon our conversations to shed light on the aspects of living with MBC that remain untold.
PARTNERING TO FOSTER PROGRESS
To identify and address the barriers to genetic testing and gaps in knowledge about hereditary breast cancer, Pfizer partnered with the breast cancer community to conduct:
A multidisciplinary roundtable of experts comprised of genetic counselors, psychologists, oncologists, nurse navigators, and advocacy group leaders.
An online survey of 1,001 US breast cancer patients at all stages, in partnership with seven breast cancer advocacy groups.
The information that was uncovered helped inform the basis of a call-to-action for genetic testing in hereditary breast cancer, available here.
To learn more about Pfizer's efforts to educate the community about hereditary breast cancer, please visit Breast Cancer: A Story Half Told.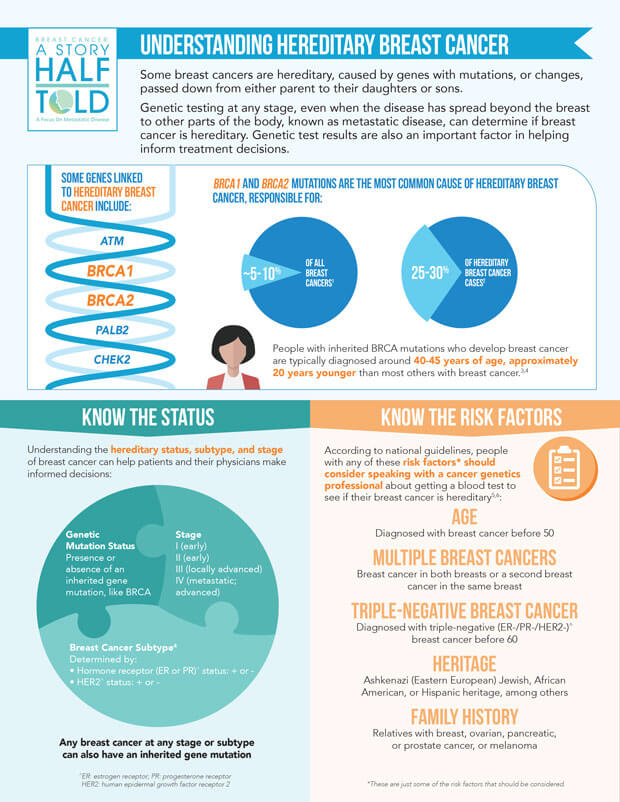 References
iChilders CP, Childers KK, Maggard-Gibbons M, Macinko J. National estimates of genetic testing in women with a history of breast or ovarian cancer. J Clin Oncol. 2017;35(34):3800-3806.
iiQuek R, Mardekian J. Real-world clinical outcomes and treatment patterns among metastatic breast cancer (MBC) patients with germline BRCAmutation (gBRCAmut). J Clin Oncol. 2018;36(15):e13075. doi: 10.1200/JCO.2018.36.15_suppl.e13075.