John Hubbard,
Head of Development Operations, on "A New Paradigm for Strategic Partnerships"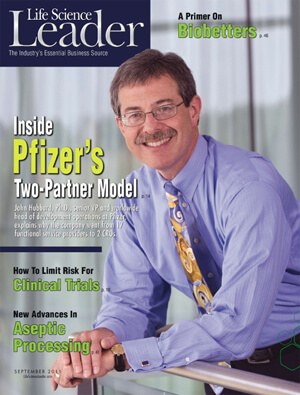 Life Science Leader magazine featured an interview with Pfizer's John Hubbard, Senior Vice President, Head of Development Operations, on how Pfizer's strategic partner model evolved and how it is going to help spur innovation.
The strategic partner model is a mainstay of WRD's "Engine for Sustainable Innovation" strategy. By engaging two contract research organizations (CROs), as opposed to the nearly 20 vendors Pfizer uses now, the strategic partner model will greatly simplify clinical trial management while simultaneously creating a more flexible cost base that can be adjusted to the changing needs of the portfolio.
According to Hubbard, volume is one of the keys to the strategic-partner model being successful. To achieve this, he felt it necessary to pick contract research organizations of adequate scale where the percentage of work would represent a significant part of their business, but not to the point at which they couldn't support it.
"I don't have to chase down multiple providers to find out if there's a problem," Hubbard said. "It gives me a clear picture by function and by therapeutic area into two providers."
When asked how to successfully manage more than 700 clinical projects throughout the world in various phases of development, Hubbard said: "You need to review project metrics, speak with clinical project managers, and recognize when things are starting to get a little wobbly. When you've been in the industry a long time, you can sort of see where there might be potential things percolating. Then, I'll call the project manager to see if I can be of assistance. By asking questions, I can usually tell pretty quickly whether things are under control or whether I need to get more involved."
Click here to read the full article.