A Stab at Gold:
Colleague Coaches U.S.A. Fencing Team at 2012 Olympic Games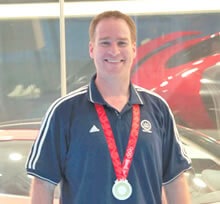 Robert Largman wears a silver medal his
team won at the 2008 Games in Beijing.
Pfizer colleague Robert Largman has headed to London for the 2012 Olympic Games to serve as team leader of the U.S.A. Fencing team, a position he has held for four consecutive Olympic Games.
Largman, who is based at Pfizer's Parsippany, New Jersey, regional office, also coached the team at the 2000 Games in Sydney, the 2004 Games in Athens and the 2008 Games in Beijing.
Under Largman's leadership, the Olympic team went from a fourth-place finish at the 2000 Games in Sydney to earning two medals, a bronze and U.S.A. Fencing League's first gold in over 100 years, at the 2004 Games in Athens, followed by six medals at the 2008 Games in Beijing — the most of any country in the competition after Italy.
Largman described the experience of earning the medals as "the pinnacle" of his 23-year career as a fencing coach.
"One of my proudest moments as a coach was receiving the medals with my team," he said. "It's very moving."
According to Largman, he is a late bloomer to the sport since many athletes begin their fencing careers as young as seven years old. He began during his freshman year at Morristown High School in New Jersey where he later returned to serve as team coach.
"It's really a sport of a lifetime. Athletes get started as young as seven or eight but there is also a veterans' league where athletes in their 40s and up can participate in senior competitions," he said.
Largman, who has not competed since college, was an All-Conference fencer at the University of North Carolina at Chapel Hill where he was named outstanding student-athlete and his team placed third at the National Collegiate Athletic Association (NCAA) Championships. Since then, he has coached 27 national and international teams, helping several students earn NCAA All-American titles.
"Coaching provides the opportunity to motivate people and help them succeed at something," he said. "In fencing, there is not a playbook that works for one team year-after-year. As much as I am managing a team, I am also working one-on-one with students, listening to their needs and adapting to how they learn. As a coach, I am able to help someone think abstractly, be more creative in their approach and, by doing so, ultimately help them succeed."
While the balancing act between work, coaching and preparing for the Olympics can be tough, he said having an understanding and supportive manager has made the process easier.
"The flexibility the company offers employees to be involved in other activities while maintaining their positions is incredible. As an employer, Pfizer is unique in the way it allows employees to have such an active work-life balance, and gives more than lip service to its commitment to employees having healthy lifestyles," said Largman, who plans to work remotely while in London. "Hopefully, I can grow old with Pfizer."