Beekeeper's Buzz
Offers Escape from Poverty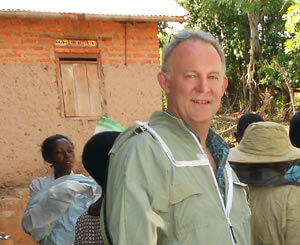 Creating a buzz about the business of beekeeping is one honey of a hobby for Pfizer's Stuart Andrews.
Andrews, who works for Pfizer in the U.K. and Ireland, supports a charity called Bees Abroad in his spare time. Composed almost entirely of volunteers, it is dedicated to teaching beekeeping skills, environmental awareness and business development to people in the poorest parts of the world, particularly Africa, and helping to provide them with a new source of income and a path out of extreme poverty.
Andrews has been a beekeeper for nearly a decade. Years ago he joined a local society near his home called Canterbury Beekeepers, and today he is the group's chairman.
Visits Uganda
In recent years, he has also become a leading member of Bees Abroad, and recently gave up a week of annual leave to visit western Uganda, where he and a fellow member of the charity, Project Leader Roy Dyche, ran a series of workshops for a group of villagers.
"The people here have very few possessions, and most of them live in fairly basic housing, with separate kitchens typically constructed of mud; often as many as a dozen live in one house," Andrews said. "So it is incredibly rewarding to be able to make a difference. Even a small project like this really can help people find their way out of extreme poverty, by providing a source of income and hope for the future."
The charity's goal is to enable people to create a sustainable business through the sale of honey and beeswax, which is used to create furniture polish, candles and lip balm. Through workshops like those run by Andrews, they pass on their skills to a small group of individuals so that they can become trainers and then teach others.
In Uganda, Bees Abroad is working in collaboration with a small community-based organization called Bigasa Sustainable Development Foundation (BISUDEF), which provides ongoing in-country advice and support. BISUDEF already has an excellent record of successful development programs in the areas of hygiene and sanitation, HIV/AIDS and reproductive health, and small-scale agricultural schemes.
Their workshops also look at ways to negotiate deals with local stores and advise on packaging and food hygiene. For example, the honey usually needs to be strained so that it is clear and then poured into jars that are labeled in a way that suits retailers and meets local regulations.
"Beekeeping is not unknown in this part of Africa, but traditional hives often consist of hollowed-out logs," Andrews explained. "These are not ideal because trees have to be cut down and the hive may have to be destroyed to get at the honey. So we showed how to build a simple version, using local materials, called a 'Kenya top-bar hive', which can be re-used time and again."
"We were in an area called Hoima, where the vegetation is lush and diverse. Although there is plenty of forage there for bees, the project has also introduced a planting scheme to help the bees to flourish."
He continued: "Everyone made us so welcome. Every morning, the workshop leaders would sing and dance to welcome us. They were so enthusiastic and very grateful."