Breast Cancer Awareness Initiative Goes National in
Malaysia
By Punita Grace-Ponmalar, PfizerWorld Correspondent Network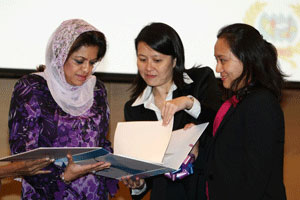 From left to right, Datuk Seri Shahrizat Abdul Jalil, Malaysia's Minister, Women, Family and Community Development, with Angel Choi, Country Manager, Pfizer Malaysia/Brunei, and Azwar Kamarudin, Director Designate, Public Affairs & Policy, at the national launch of the MenCare Corporate Program
Pfizer's efforts to raise awareness of breast cancer in Malaysia have gone nationwide with the recent launch of a corporate responsibility project that encourages men to be more supportive of periodic breast screenings for the women in their lives.
Started by Pfizer in 2006 as an informational handbook for men on breast cancer, the MenCare Corporate Program launched nationwide as part of Breast Cancer month in October. Since the handbook was developed, the program has expanded into a national training initiative for more than 200 advocates. MenCare aims to enlist men in key positions in corporate and community sectors to advocate policies and regulations in the work place that promote male support of breast cancer screenings and treatment.
Today, the initiative advocates changes in policy and operational procedures that encourage men to be more supportive of regular breast cancer screenings and timely treatments, including:
Workplace health insurance coverage of breast cancer screenings;
Time off from work so that men can accompany women to breast cancer screenings; and
Workplace promotions to raise awareness of breast cancer, including detailed information on breast health and breast cancer, and how men can play a supportive role.
Local research has shown that women are more likely to go for screenings and get diagnosed and treated if men are supportive. This is an important factor as early diagnosis and treatment may lead to improved recovery and survival.
The initiative was announced jointly with the National Council of Women's Organizations, and is conducted in partnership with the Ministry of Women, Family and Community Development, a government agency that focuses on gender equality, family development and social welfare. The Federal Land Development Authority, IBM Malaysia, MCIS Zurich and National Union of Plantation Workers are corporate partners in the effort.
At the program's launch, Datuk Seri Shahrizat Abdul Jalil, Malaysia's Minister of Women, Family and Community Development, urged the corporate sector to consider and implement human resource and corporate social responsibility policies that put stakeholders at the top of their corporate agenda.