Camp Sebago
Day Attracts Record Number of Pfizer Colleague Volunteers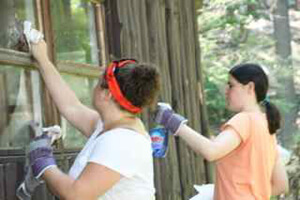 Pfizer recently set a new record for volunteer participation when more than 250 colleagues spent a sweltering day at Camp Sebago in New York's Harriman State Park performing a variety of chores to prepare for more than 1,500 children who will enjoy the camp this summer.
Colleagues raked leaves, painted cabins, set up computers in a "Pfizer PC Lab" and repaired a dock for the young campers, who come from the Kips Bay Boys and Girls Club in the Bronx.
Like many non-profit organizations, Kips Bay depends on volunteers to operate the camp. This year marks Pfizer's 14th year of sponsorship. Over the course of those 14 years, more than 53,200 children have benefited from the more than 14,700 hours of volunteer service Pfizer colleagues have provided at Camp Sebago.
"One of our business imperatives is to be respected by society, and one way to do just that is by putting our community values into action," said Chuck Hill, Executive Vice President of Worldwide Human Resources, who together with Lisa Martin, Senior Vice President of Global Procurement and Operations, co-sponsored the volunteer event. "Every year we are astounded by the number of colleagues who spend the day at Camp Sebago, doing whatever it takes to prepare the site for its summer residents. This year was more remarkable than ever."
During a break from the heat, children from the Kips Bay Boys and Girls Club expressed their appreciation for the volunteers by performing a special dance. Compass, Pfizer's food service vendor, donated lunch for colleagues.
For volunteer Shari Adler, Program Specialist for the Marketing Rotational Program, this year was especially meaningful because it marked her tenth year as a volunteer. Jose "Lou Rod" Rodriguez, Senior Director of Kips Bay Boys and Girls Club, awarded Adler an Indian name, "Macawi", which means "generous." Event coordinators George Martinez, Sonya Rajpaul, and Marjorie Duvalsaint received honors for their efforts to bring Pfizer back to Camp Sebago for another year.