Camp Shows
Pfizer Foundation's Commitment to Thai Youth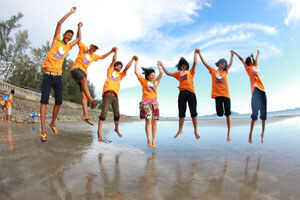 As part of its Corporate Social Responsibility program, the Pfizer Thailand Foundation sponsored 100 underprivileged children in southern Thailand for the Young Leadership Camp.
The initiative involved two days of fun-filled activities to foster teamwork and leadership traits among the children and increase their environmental awareness. The activities were topped off with a symbolic planting of sea grass and release of fish back into the Andaman Sea.
The Pfizer Thailand Foundation has been sponsoring these 100 children for six years for an annual get-together under the Young Leadership Camp program. Many of the children were directly impacted by the catastrophic Asian tsunami in 2004.
"Having organized the camp for six consecutive years truly reflects our commitment to doing good in our communities here in Thailand," said Manu Sawang-Jaeng, Director of the Pfizer Thailand Foundation. "We have been sponsoring 100 kids in partnership with the World Vision Foundation of Thailand. These children have experienced hardships since a very early age, and were in need of long-term support. So far, the results of our initiative have been positive, and this has helped enhance our corporate reputation and solidified our partnership with the local community."
Added Anutra Sinchaipanich, Executive Director of the Pfizer Thailand Foundation, "The camp is just one facet of our larger Corporate Social Responsibility program aimed at cultivating leadership characteristics. It is our belief that strong communities start with the individual. Having seen the development in their thinking processes and characters, we are convinced they will become forces to reckon with in the future. This project truly serves as a testament to our dedication in cultivating young leaders in the Thai community."