Centrum Silver
Plays Key Role in Health Study on Multivitamins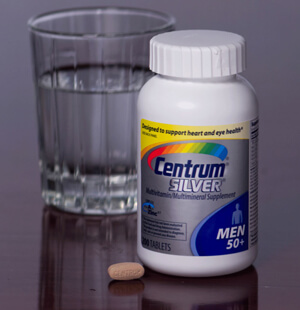 Brigham and Women's Hospital (BWH), a teaching affiliate of Harvard Medical School, used Pfizer Consumer Healthcare's Centrum Silver for the Physicians' Health Study II, a 12-year study conducted by the hospital that tested the role of multivitamins in relation to long-term health benefits in men 50 and older.
The quality of Centrum multivitamins, among other factors, led investigators at BWH to choose Centrum Silver for the duration of the study. Centrum Silver multivitamins, currently available in stores across the nation, have since been updated and improved to reflect advances in nutritional science. Centrum is the No. 1 doctor-recommended multivitamin brand.
"Being selected to be a part of such a landmark study adds to Centrum multivitamins' proud heritage of being the most-studied, the most-recommended and the most-used multivitamin brand in America, which helps people fill dietary gaps when they aren't fulfilling all their nutritional needs through food alone," said Paul Sturman, President and General Manager, Pfizer Consumer Healthcare.