Climbing Mountains,
and More, to Honor a Father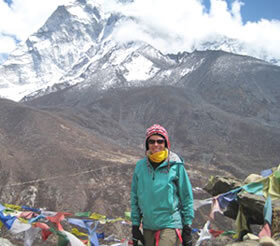 Pfizer's Deanna Angello, a Director in the company's Established Products Business Unit, would accept almost any challenge to raise awareness and funds to find effective treatments for frontotemporal dementia (FTD), an aggressive form of dementia that affects middle-aged people.
Since her father was diagnosed with FTD in 2009 at age 65, Angello has barely stood still. Earlier this year, she launched a campaign in which she will compete in a number of endurance events in order to raise awareness and funds for the Association for Frontotemporal Degeneration (AFTD), a U.S.-based nonprofit organization whose mission is to create a world where frontotemporal degeneration is understood, effectively diagnosed, treated, cured and, ultimately, prevented.
This year, she's run the New York City half-marathon and embarked on a 15-day climb to the base camp of Mount Everest in Nepal, more than 17,500 feet above sea level.
Angello is also committed to competing in the New York City and the Nation's triathlons this summer, and running the Army 10-miler in Washington, D.C., in October (her father is an Army veteran) and the New York City marathon in November.
So far, she's raised more than $13,000 for the cause, and has a goal of increasing awareness of FTD and raising $50,000 for AFTD.
"When my father was first diagnosed with FTD, I had a difficult time processing and dealing with what was happening to him and what it meant for our family and future," she explained. "Eventually, I gained strength and realized that I could turn something very negative into positive and honor my Dad in the process. My mission became clear: Channel my energy and grief into ensuring that everyone I know or meet knows what FTD is, and ask for their support in raising funds for care and a cure."
FTD is also known as frontotemporal lobar degeneration or Pick's disease and is less known than Alzheimer's disease. FTD can first affect people in their 50s or 60s and causes changes in behavior and personality, language and/or motor skills, a deterioration in a person's ability to function and is more aggressive than Alzheimer's.
"I have a passion for sports, athletics and the outdoors," Angello said. "I attribute my athleticism to my father, which is why I am taking on these athletic endeavors in 2012. My biggest fear is the day when my Dad no longer knows who I am."
Reflecting on her ascent to the Everest Base Camp, Angello described it as "the hardest thing I've done in my life," and added that "I thought of my Dad as I kept perspective on why I was doing this."
Angello was recently elected to the board of directors of the AFTD.