The FDA's current process for how clinical trials are conducted has been in place for 60 years, but new scientific approaches, emerging technologies, and advanced analytics have created opportunities to evaluate the safety and effectiveness of new drugs in ways that are much more efficient – and can get life-saving treatments to patients more quickly.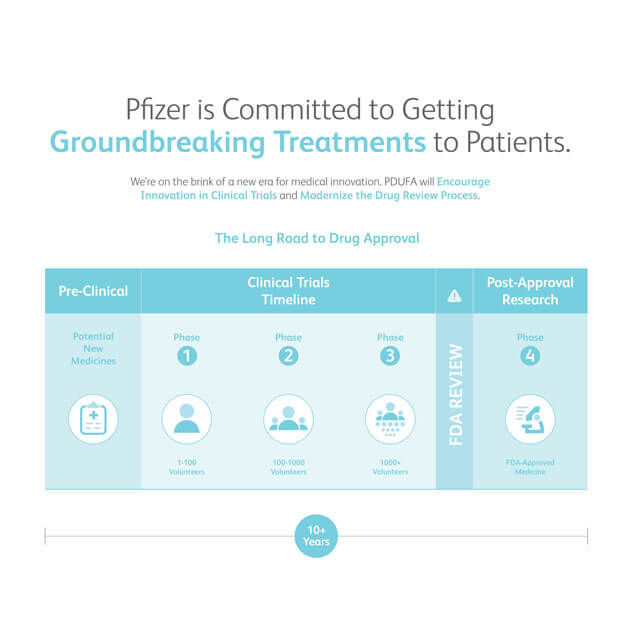 Fortunately, this year we have a chance to improve this system. While most people have never heard of the Prescription Drug User Fee Act (PDUFA), it's a law that provides resources to the FDA to make sure the safety and effectiveness of new drugs are reviewed promptly and made available to patients in a timely manner. Initially signed in 1992, the bill is reauthorized every five years, often with improvements to the review process for new, potentially life-saving, medicines.
Members of Congress must vote to reauthorize the Act before it expires on September 30th, and if it passes, there could be some serious improvements to the clinical development process for new drugs.
If reauthorized, the new law would support Pfizer's commitment to modernizing the drug development process to make sure drugs are thoroughly reviewed while getting patients the cures they need faster. By enhancing FDA's capacity to review innovative clinical trial designs, encouraging new uses for real-world evidence to complement clinical research, and better utilizing biomarkers in drug development, the updated PDUFA would support significant enhancements that could improve health outcomes for thousands of Americans.
We're on the brink of a new era for medical innovation, but we need to modernize the way clinical trials are conducted to generate the evidence that FDA reviews to approve groundbreaking new treatments and get them to patients more promptly. Keep up with the latest news related to PDUFA by following Ready for Cures here.