Colleague Flying High After Piloting Women's Air Race Classic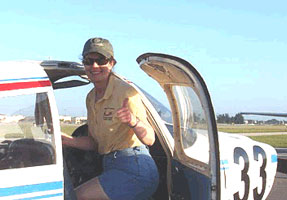 Marlene Raseta
As a child, colleague Marlene Raseta used to dream of flying an airplane. "Every time a plane flew overhead, I would look up and dream about being in the clouds," explained Raseta, a Quality Assurance Specialist in Global Manufacturing. "The first time I went up in the air, I fell in love with that perspective on the world."
Raseta has been pursuing her passion ever since. This year, she and a flying partner, Debbie Dukeman, decided to take flying one step further. They entered a competitive flying exhibition, the 34th Annual Air Race Classic (ARC) in June in Fort Myers, Fla. The four-day race, comprised solely of women pilots, covered 2,483 miles and included stops in Georgia, Alabama, Arkansas, Missouri, Indiana and West Virginia, before ending in Frederick, Md.
"Only 6 percent of licensed pilots are women," Raseta said. "And I am so proud to be one of them."
The ARC celebrates 100 years of licensed female pilots and takes place 81 years after the first all-women's air race, dubbed the Powder Puff Derby. Amelia Earhart was one of 20 women to compete in the first women's Air Derby in 1929. The race's goal from the beginning was to prove that women pilots were as good as the men.
Even though the name has changed, the race stands as a symbol for equality to those who participate in it.
Racers range in age from 18 to 92 with experience from new private pilots to women with over 40,000 hours of flight time. A total of 54 teams participated in this year's event with 72 new racers joining 41 veterans. Teams were made up of two or more pilots flying a single- or twin-engine airplane.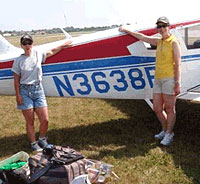 Marlene Raseta (l.), and Debbie
Dukeman (r.)
Raseta and Dukeman flew a low-wing Piper Cherokee 180. "I chose to fly with Debbie because we make a really good team together," Raseta said. "We each have different skill sets and so we divide the work based on those skills and utilize each of our strengths during the flight."
Each plane was judged against its own handicapped cruising speed and teams followed the route as closely as possible while improving their average speed during daylight hours. The format focused on piloting skills and decision-making instead of speed, so pilots are given the leeway to play the elements and hold out for better weather conditions. The objective was to fly the "perfect" cross-country race. In this type of race, the aviator who comes in last could still win the race.
"In the final standings, we placed 37th out of 51 teams, and we placed second in the leg from Waycross to Tuscaloosa," explained Raseta. "We are both very pleased with our performance for our first time racing."
In the end, Raseta said she learned a lot from flying in this race and accomplished her goal of becoming a better pilot.
"I had a great time," she said, "and I hope to be able to race again next year."