Colleague Gives Back to His
Native Haiti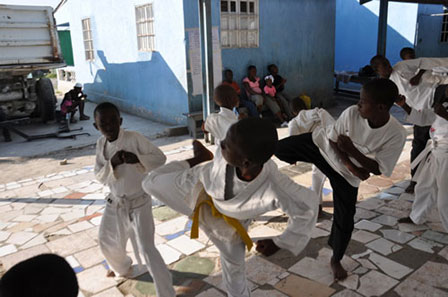 Children in Haiti practice martial arts in a makeshift facility under a tent.
As a child growing up in Haiti, Turnier Esperance was active in martial arts. But after an American missionary doctor removed a tumor from his knee — saving his leg from amputation and allowing him to continue with the sport he loved — Esperance promised himself to give back to the children of his native country one day as someone had given to him.
Twenty–four years later, he still has his leg, still practices martial arts and has made good on his promise.
In 2006, Esperance, now a Finance Director for Pfizer in Collegeville Valley, Pa., helped found the Haitian Sports Foundation (HSF), a nonprofit organization that supports three local sports programs in Port–au–Prince. The programs provide sporting activities – including martial arts, soccer, basketball, track and field, table tennis and volleyball – for more than 1,200 children ages 6–17. The programs also offer academic support and tutors, and daily snacks for the children.
"I wanted to find the best way that I could to help children in Haiti, and I believe the best way, for me, was through sports," said Esperance, who travels to the country twice a year, bringing sports equipment, clothes, shoes, first aid supplies, toys and food. "I believe it's great to return the thanks for the support I received as a child, whatever little bit I can do."
Since the Earthquake
With Haiti already struggling with limited resources, Esperance was unsure of what to expect when he traveled there in late June for the first time since the magnitude 7.6 earthquake in January, which tragically claimed the lives of five children in one of HSF's programs. "First and foremost, I wanted to make sure the kids have enough food, a support network from an academic standpoint, and sports activities to keep them busy and active," he said.
Many of the fields and recreational areas traditionally used by the foundation's programs for sporting activities are now home to temporary shelters for people who've lost their homes. With so many buildings ravaged, many existing spaces are serving multiple purposes. One of the martial arts programs is now held in a 40– by 40–foot building that doubles as a church, cafeteria and school.
With this the new daily norm, Esperance believes that sports are now even more important than ever.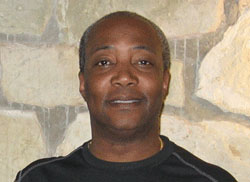 Turnier Esperance, co-founder, Haitian
Sports Foundation
"I believe that sports are even more essential to keep the children preoccupied and to give some sense of belonging to a group, and a sense of the future," he noted. "It was amazing to see how practicing sports gave them a sense of appreciation and structure." Despite the tragedies they've faced in recent months, Esperance was surprised to find that the children continue to remain hopeful.
"What gives me hope is that you can see the resilience of the children," he said. "You can see how much they are trying to overcome the fear of the earthquake. They are so well-behaved and they love to laugh."
Future of the Program
Before January, the foundation had planned to build a large community center to house all the programs under one roof. Esperance noted that expansion in the face of the earthquake is tough because immediate needs are more pressing. But the organization is still planning to move forward.
"Our main objective, right now, is that the programs continue to receive enough food, sports instructors, school supplies, basic infrastructure for sports and enough funding to keep the tutoring program," Esperance said. "I want to give these kids a place to go to escape the poverty and stay off the street, a nice facility where they can socialize with one another and grow to become good citizens to help their country."