Colleague Reunites
with Long-Lost Connection in Uganda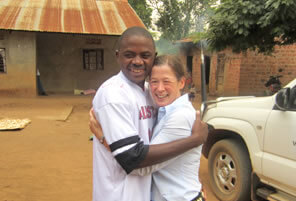 Pfizer Global Health Fellow Janet White enjoys a happy
reunion with Muhamud Lubega, a long-lost contact in
Uganda.
Editor's Note: Pfizer's Janet White, who is currently working on assignment in Uganda as part of the company's Global Health Fellows program, recently reunited with a man she once sponsored through World Vision when he was a child. Below is White's story in her own words.
Many years ago while I lived in the U.K., I sponsored several children in countries in Africa and Southeast Asia through the charity World Vision. One of the children, Muhamud Lubega, lived in the village of Kiwoko in Uganda, near the capital, Kampala. I sponsored Muhamud for 4 - 5 years and we exchanged letters and photos from time to time. In 1998 World Vision informed me that Muhamud's family had moved away, and we lost touch.
This year, I was selected to be part of the 2012 class of Global Health Fellows placed to work on a three-month assignment with the Infectious Diseases Institute (IDI) in Kampala to develop a strategic plan for IDI's research team.
I passed the World Vision offices in Kampala several times and decided to contact them to see if I could find out what happened to Muhamud. I knew the chances were slim. I brought his photos, ages 7 and 11, to Uganda so I would be prepared if the opportunity to find him presented itself. Aeneas, a driver who has been with World Vision for 14 years, was able to trace Muhamud through his local connections! On Aug. 1, World Vision arranged for Muhamud and me to meet, 15 years after we lost touch.
Instant Recognition
We recognized each other instantly from the photos we'd exchanged years ago. Muhamud now lives in Busia, a border town close to Kenya, where he has a barber shop. He had traveled to his grandmother's home in Kiwoko and had been waiting three days to see me! We were invited into the front parlor to chat. The family is Muslim and it was Ramadan so they were fasting. However, they were very gracious hosts and offered us bananas and roasted maize.
I gave Muhamud the original photos I had of him. He is married to a teacher Christine and they have a daughter and son, ages 9 and 4. I expect the children will be intrigued to see what their father looked like as a boy. (His face hasn't changed much!)
Muhamud was the only child in his large family to be sponsored, but only attended five years of primary school before his family moved and he left the program. I visited the school to see the improvements that were made at the time of the World Vision project. This was one of four schools that World Vision supported in the district, together with 600 sponsored children. Today there are over 800 children and just 12 teachers at this school alone. After leaving school, Muhamud was conscripted unwillingly into the Ugandan Army and fought in the second Congo war. He was glad to leave the army after three years.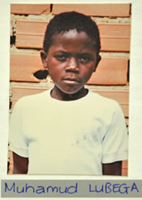 Lubega at age 7.
Muhamud and I exchanged cell phone numbers and we have been in touch by phone. It's a little difficult to communicate since Muhamud doesn't speak much English and I speak even less Luganda. He has said he wants to go back to school to improve his English and his dream is to become a boxer, so I hope that we can stay in touch and I can encourage him to pursue his goals.
Editor's Note: Be sure to check out White's blog while she is on assignment in Uganda.