Colleague's Visionary
Talent Helps Restore Eyesight in Australia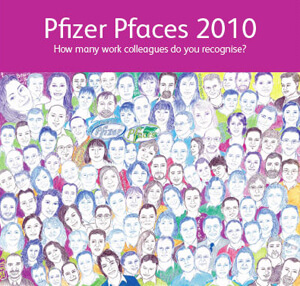 Loc Tang, a Technical Specialist with Pfizer Global Supply, used his artistic talents to create a hand-drawn, face-recognition contest – called "How Many Can You Name?" – for his coworkers. The contest benefited The Fred Hollows Foundation, an international development organization that focuses on preventing blindness and restoring sight to people who can't afford or access eye health services.
"I drew faces of many famous people from around the world and I set up a competition for all of my Pfizer colleagues across the Perth (Australia) site to identify as many of the faces as possible, by paying a small fee to enter," Tang said.
The entry fees and donations from colleagues raised $2,500 dollars for The Foundation. Pfizer donated an additional $1,500 in Tang's name after his project placed in the top 25 of the company's VOL.UNTEERZ Challenge, a global competition designed to recognize achievements in volunteerism by individual employees around the world.
Tang credits his creative approach to fund-raising, colleague support, and The Foundation's inspiring mission for the success of his volunteerism.
"This competition was designed to create an inclusive environment and get everyone involved, but the underlying message was to promote awareness of a health-focused organization such as The Fred Hollows Foundation which achieves a lot with so little," Tang said.
Tang learned about The Foundation through Pfizer Australia's "Partnering for Sight" program, which raises funds for the organization through various events. In 2010, Pfizer raised more than $38,000 for The Foundation.
"Pfizer's support in 2010 contributed to The Fred Hollows Foundation's sight restoring work in 18 countries internationally," said Nina Murphy, National Fundraising Development Coordinator, The Fred Hollows Foundation.
Murphy also noted that Loc Tang's and Pfizer's initiatives were critical to The Foundation's success last year. Because of donations from Pfizer and others, The Foundation was able to perform 194,903 eye operations and treatments and train 12,691 medical and support staff.
After the success of the "How Many Can You Name?" competition, Tang organized a second, similar fundraiser called "Pfaces of Pfizer." For this contest, Tang drew many of his Perth colleagues.
For all that he has done, he remains committed to helping The Foundation combat avoidable blindness in the future.
"I know this sounds like only a few drops in a very large pond but I am determined to fill this pond up, one drop at a time" Tang said.