Colleagues Surf for a Cure in
La Jolla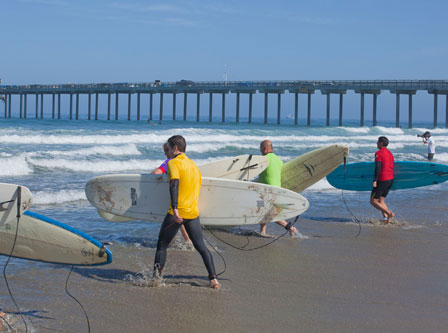 Colleagues hit the beach with their surfboards at a recent fund-raiser in La Jolla
Pfizer colleagues took to the waves in Southern California recently to raise funding and awareness for oncology research at the University of California, San Diego (UCSD), as part of the 17th annual Moores UCSD Cancer Center's Luau and Longboard Invitational. For the third year in a row, Pfizer was the title sponsor.
Dennis Ryan, Director, Public Affairs, noted that the invitational is one of the most successful surfing fund-raisers in the world and reported that this year's event raised more than $370,000.
"In addition to raising funds, this event also helps raise awareness of the innovative research into the causes and treatments for cancer conducted by researchers at facilities like Moores UCSD Cancer Center and Pfizer La Jolla," said former La Jolla Site Leader Catherine J. Mackey, Ph.D.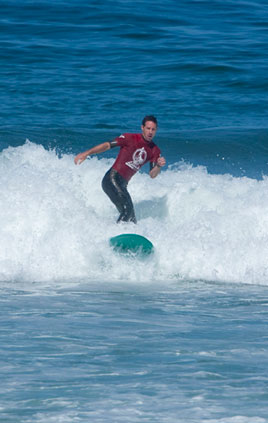 Surf's up for Kevin Fleet, Senior Director, Global
Data Management, Finance and Business
Operations, Business Technology
As in previous years, Pfizer colleagues created surf teams made of four team members plus a surf "legend," who this year happened to be Fernando Aguerre, the founder of Reef Sandals and a major philanthropist.
The event attracted 100 surfers who competed on 20 teams. Pfizer sponsored two teams: the "Thrivers Team," consisting of surfers from San Diego who have successfully fought cancer, and another team made up of colleagues from Pfizer La Jolla and CovX, both divisions of Pfizer Worldwide Research and Development.
"It's great to see the level of excitement and passion in the community centered on what we at Pfizer do every day - fighting cancer," said team captain Brion Murray, Ph.D., a Research Fellow in the Oncology Research Unit. "The event had cancer survivors, philanthropists, and other community members all trying to do what they can to participate in the fight. The experience reminds us that the goal that we've dedicated our lives and careers toward achieving touches many people directly and indirectly."
Since its founding, the event has raised more than $5 million to fund cancer research at the Moores UCSD Cancer Center, the region's only comprehensive cancer center designated by the National Cancer Institute.
"We at Pfizer La Jolla spend every day immersed in the battle against cancer, which often requires that we focus dispassionately on disease mechanisms and other aspects of oncology drug development," said Associate Research Fellow and surfer Peter O'Brien, Ph.D. "Surfing offers a very different experience, one where being in the moment and seizing opportunities as they arise serves as its own reward. The Longboard Luau offers a rare and rewarding chance to pursue both paths at once. It's an event every colleague should experience."