Colleagues Help Families
Celebrate Hong Kong Dragon Boat Festival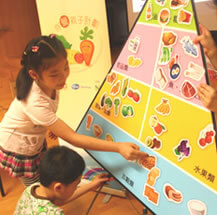 Children in Hong Kong learn about heal-
thy eating habits by sticking food stick-
ers onthe food pyramid
Colleagues from Pfizer Nutrition in Hong Kong recently joined more than 50 adults and children from a local food bank in making healthy, nutritious rice dumplings during the annual Dragon Boat Festival celebrations.
Making and eating rice dumplings, called zongzi, is a Chinese tradition during the festival. However, many underprivileged families cannot afford to participate in this custom. Colleagues gave these parents and their children a chance to learn and celebrate this event together.
Throughout the event, which was held in cooperation with St. James' Setttlement People's Food Bank, a nongovernmental organization, colleagues educated families about the importance of healthy eating. They showed how to make rice dumplings without traditional high-calorie ingredients, instead using healthier items such as red rice, carrots, mushrooms and lean pork.
"The gathering provided a good platform for parents to share and learn about rice dumpling-making, as well as how to prepare healthy and nutritious food even within a tight budget," said Connie Ng, Service Manager, St. James' Settlement People's Food Bank.
The Dragon Boat Festival activities were part of Pfizer Nutrition Hong Kong's "'Nutri-Add' Family Program." The event drew enthusiastic reviews from participants. Six-year-old Ah Yee said, "I had so much fun that day. It was my first time making rice dumplings. It was great playing and learning together with my parents."
Clarence Chung, General Manager, Pfizer Nutrition, Hong Kong, said, "In recent years, apart from making donations to support charities, our community service program has focused on teaching economically disadvantaged families practical ways of incorporating good nutrition into their families' diets. Thanks to the efforts of our colleagues, many families will have healthier Dragon Boat Festivals in the years to come."