Colleagues Shave Hair,
Give Hope to Cancer Patients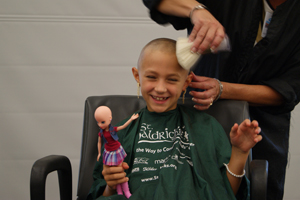 Taylor Mitchell is all smiles as she gets her head shaved
Charles Mitchell, Associate Director, Production Operations, Pfizer Global Supply (PGS), and his 9-year-old daughter, Taylor, were among 19 colleagues and family members at the Sanford, N.C., site who shaved their heads in support of the "Shaving the Way to Conquer Kidsý Cancer" fund-raiser for St. Baldrick's Foundation.
This is the second year the event has taken place at the PGS Sanford facility. Participants voluntarily shaved off all their hair to show solidarity with children undergoing cancer treatment and have raised more than $16,600 to date for the charity to fund childhood cancer research.
Mitchell participated in the inaugural fund-raiser last year with his daughter who helped to cut his hair. He said the experience was another way to support the health and well-being of children.
This year, Taylor told her father she wanted to sit in the barber's chair and have her waist-length hair shaved off alongside him.
"Naturally I thought she was interested in only cutting my hair again when in fact she made it clear to me she wanted to shave her head. As a fan of long hair, I tried to persuade her otherwise, to no success," said Mitchell.
Mitchell and his wife used Facebook to promote Taylor's participation in the fund-raiser and donated items in a local auction to help their daughter bring in more than $6,000 within a week. Colleagues also contributed money and cheered the other participants on the day of the on-site event.
Taylor maintained a wide smile during her haircut, commenting that the clippers tickled her head. Her hair, sectioned into 12 18-inch-long braids, was donated to the charity, Locks of Love, to make wigs for cancer patients.
"There's no difference in me with my head shaved or with hair," Taylor said in an article featured in local newspaper, The Sanford Herald. "I don't like to watch other children suffer. I had a friend who has had brain cancer. She's gotten better, but she is still on a lot of medicine."
She also held up a Moxie Girlz doll — a gift from one of her father's co-workers — called True Hope that also has a shaved head. The doll, released by MGA Entertainment, is promoted to instill inspiration, companionship and confidence to children suffering from cancer.
"I looked and there was my 9-year-old, long-haired beauty just as bald as the day she was born," Mitchell said. "Seeing her that way made a thousand thoughts rush through my head — thoughts of joy and happiness, and then thankfulness for her health and sorrow for those children actually battling cancer."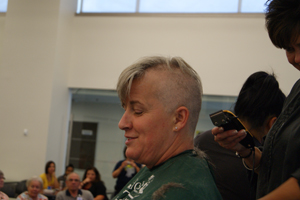 Pfizer colleague Hope Buchanan gets her head shaved
for the fifth consecutive year in support of St. Baldrick's
Foundation
Pfizer has donated to St. Baldrick's Foundation for the last four years. Colleagues can still make contributions to this year's fund-raiser by visiting the St. Baldrick's Foundation website at www.stbaldricks.org and then search "TaylorM".
St. Baldrick's Foundation is a volunteer-driven charity committed to funding the most promising childhood cancer research to find cures and give survivors long and healthy lives. The organization has given more than $101 million in cancer research grants since its founding in 2005.