Community Spirit
Lives on in Former Home of Pfizer Brooklyn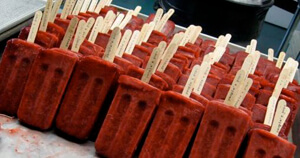 Strawberry popsicles in the former Pfizer Brooklyn
facility
A new kind of manufacturing is happening in the former Pfizer factory in Brooklyn. Where once prescription medicines came off conveyor belts, now artisanal popsicles and handmade pasta are produced and packaged for consumers.
Early last year Acumen Capital Partners, a developer known for repurposing industrial properties, bought the South Williamsburg location where Pfizer was founded in 1849.
Now the former warehouse, office and laboratory space is home to small-batch producers such as People's Pops popsicles, Sfoglini pasta, McClure's Pickles, Brooklyn Soda Works and Steve's Ice Cream.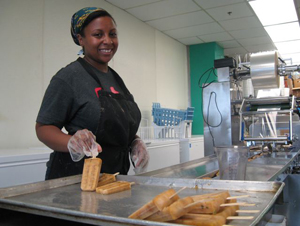 Sharlena Powell makes rhubarb chamomile popsicles
at People's Pops in the former Pfizer Brooklyn facility
According to Jeff Rosenblum, a co-founder of Acumen, "Brooklyn has become a culinary Mecca and we can provide commercial kitchen space for food start-ups." The already-clean environment for pharmaceuticals made a smooth transition to food preparation.
The eight-story, Food and Drug Administration-approved facility has washable floors with drainage, water purification systems, heavy floor loads, large freight elevators, exhaust systems and ample power. At its height, Pfizer Brooklyn employed more than 2,000 colleagues in round-the-clock shifts. The company ceased production there in 2008.
In 2005, Bob McClure was a temporary assistant in Pfizer headquarters in Manhattan. Now he works in the Brooklyn plant developing new products for a family-owned company, McClure's Pickles.
"There is a growing community of entrepreneurs here," he said. "The companies are diverse and I can talk to someone who does construction about infrastructure and development of our office space or seek out a company for providing soda, ice cream or other employee perks."
New tenant Scott Ketchum of Sfoglini chose the location to make fresh and dried extruded semolina pasta. "I read that this was a place to incubate businesses, and it had a decent rent and a good community," he said. "I've met five or six other companies and everyone has good advice."
About a third of the 575,000-square-foot space is used by food manufacturers, but the facility is a launch pad for all kinds of creative businesses. Other spaces support a fly-rod manufacturer, a sculptor, a kite maker, and producers of catalogs for Cooper-Hewitt, National Design Museum.
Film crews make regular use of the expansive lower level with wide column spacing and high ceilings. Sets are constructed in a caged area that once housed Pfizer's sterile products. An adjacent loading dock means building materials can move in and sets can move out quickly. More than 30 movies, commercials and music videos have been shot on site, including "Batman: The Dark Knight Rises." The private, secured parking lot housed the Batmobile during production.
In the works is a rooftop farm. "It's a green roof that makes the building cooler in the summer and warmer in the winter," said Rosenblum. "It reduces the city water demand. We try to be green at all times." Plans for the ground floor include a farmer's market and temporary "pop-up" stores to give the small manufacturers a retail presence.
Lisa McClancy, an administrative assistant for Pfizer, was a third-generation Pfizer Brooklyn employee who spent 18 years at the plant.
"During my time in Brooklyn there was such a sense of a 'Pfizer Family' since generations of coworkers worked together," she said. "Everyone knew one another and no one walked by someone without saying 'Hi.' As soon as you walked in, it felt like a second home."
It seems that the camaraderie felt by Pfizer's Brooklyn colleagues is as much a part of the building as its physical attributes. With the new group of creative businesspeople, community spirit lives on.