Company Named
'Most Friendly to Women' in Gulf and Levant States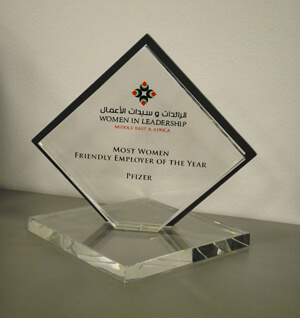 Pfizer earned the "Most Women Friendly Employer of the Year" at the recent fourth annual Women in Leadership (WIL) Middle East and Africa Forum in Dubai.
Pfizer was recognized for actively encouraging women executives in the Gulf and Levant markets — the countries of the eastern shore of the Mediterranean from Egypt to, and including, Turkey — to develop their skills through training programs and growth opportunities.
"Pfizer recognizes the dedication, hard work, and creativity that women bring into the organization," said Zeydan Abuissa, Country Manager, Pfizer Gulf and Levant Markets. "By offering our talented female colleagues a friendly and healthy work environment, we promote the culture of growth and development. Our team provided training and development programs, flexible schedules, and worked creatively to support and empower the women at Pfizer, which led to our winning this prestigious award."
Sophie Le Ray, Founder of the WIL Series and Chief Executive Officer of Naseba, congratulated Pfizer on the award, commending the company's efforts to advance women in the workforce and empower them internally and externally. She also praised Pfizer's commitment to diversity and inclusion, an important theme for the Women in Leadership series.
Among the criteria the award judges evaluated were human resource strategies, training and development opportunities, and employee retention rates. A key component of Pfizer's success in this area, noted Abuissa, is the Gulf Levant Markets Women's Council, which ensures the existence of internal policies that promote continuous integration of all colleagues without regard to gender, culture, religion, or nationality and which offers a platform to connect with senior female leaders across the Pfizer organization.