Company Partners With MIT
to Break Ground on New Research Units in Cambridge, Mass.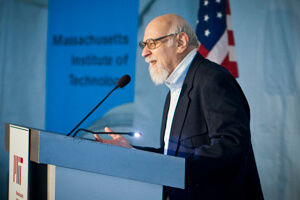 Dr. Allen Krieger provided a patient's perspective on
living with Alzheimer's disease at the ceremony
Pfizer and the Massachusetts Institute of Technology (MIT) last week held the official groundbreaking of the new location of Pfizer's Cardiovascular, Metabolic and Endocrine Diseases (CVMED) and Neuroscience research units (RUs) at Kendall Square in Cambridge, Mass.
The company's physical proximity to the medical R&D community in Massachusetts is designed to encourage Pfizer drug discovery scientists in Worldwide Research & Development (WRD) to develop deeper relationships with the best contemporary biologists and scientific minds in Cambridge. Together, they will work to tackle the symptoms of diabetes; take cardiovascular risk reduction to unprecedented levels; and reduce the symptoms and slow disease progression of Alzheimer's disease.
In attendance was one of those patients who might benefit from that research: Dr. Allen Krieger, an accomplished engineer and MIT graduate who is living with early-stage Alzheimer's disease (AD) — as well as Type 2 diabetes — and who attended the ceremony with his wife Jeanne.
"I have children and grandchildren as well as a sister and a bunch of cousins who have children and grandchildren of their own, not to mention the families of all the other Alzheimer's patients," said Krieger, noting that he is the fourth member of his family to be diagnosed with AD. "If there's anything I can do to keep this wolf away from their doors, I ought to do it. That's why I'm so happy to see Pfizer joining here. Welcome and good luck."
Changing the Course of Human Disease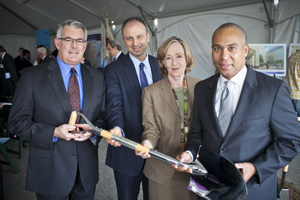 (l to r) Rod MacKenzie, Mikael Dolsten, MIT President
Susan Hockfield and Mass. Governor Deval Patrick.
At the groundbreaking ceremony, Pfizer Board Member Dennis Ausiello, President of Worldwide Research & Development Mikael Dolsten, and Senior Vice President, Head of PharmaTherapeutics R&D Rod MacKenzie were joined by MIT President Susan Hockfield, Massachusetts Governor Deval Patrick, and Cambridge Mayor David Maher.
"To be situated here at Kendall Square allows Pfizer to draw on and contribute to breakthroughs in the life sciences and technology," Dolsten said at the ceremony. "Together we have the ability and potential to change the course of human diseases."
The event follows the signing in September of a 10-year lease agreement with MIT for more than 180,000 square feet for Pfizer lab space to house the CVMED and Neuroscience RUs. The move to Cambridge supports the WRD strategic vision to increase the companyýs presence in biotechnology hubs such as Cambridge, and the relocation makes Pfizer the second largest biopharmaceutical company in Massachusetts in terms of number of employees.
Pfizer plans to bring around 400 new research jobs to Cambridge. In addition to relocating Pfizer scientists to the area, the company anticipates hiring a significant number of scientists for the two research units, including biologists, chemists and individuals with other areas of research expertise.
"When we started this work we didn't think it was enough simply to have a Cambridge zip code, we wanted to be right here," MacKenzie said. "And our vision was: we can walk across the street and we won't even worry in February about putting our coat on to do so. I think we've achieved that in this location."
In welcoming Pfizer, MIT's Hockfield remarked that "Kendal Square has more biotech and IT firms per square mile than any place on the planet. Thatýs why we're absolutely delighted that Kendall Square will now be home to Pfizer's research labs."
She also noted that MIT's collaboration began long before the groundbreaking ceremony. "Our work with Pfizer stretches back well over a decade," she said. "Pfizer has supported MIT students and researchers on projects led by some of our most distinguished faculty."
Click here to read the press release announcing the groundbreaking and here to view a video of the ceremony (RT: 52:27)