Company Scores Highest Distinction on
Key LGBT Corporate Ranking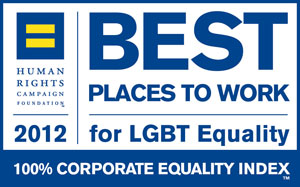 Despite more rigorous criteria as a requisite for a perfect score, Pfizer has again earned a "100" ranking — the highest possible — in the 2012 edition of the Corporate Equality Index (CEI), the leading survey that evaluates U.S.-based businesses on their treatment of lesbian, gay, bisexual and transgender (LGBT) employees, customers and investors.
Pfizer has earned a 100 score each year — nine consecutive times — since the 2004 edition of the CEI, which is published annually by the Human Rights Campaign Foundation, an education and research-focused arm of the Human Rights Campaign (HRC), the largest LGBT advocacy nonprofit in the U.S.
Since its launch in 2002, the CEI has become a key benchmarking tool for the growing number of businesses competing to recruit and retain top talent and sway the choices of increasingly influential LGBT consumers. For example, this year's CEI findings revealed that the number of Fortune 500 companies offering domestic partnership benefits has increased by 76 percent since 2002, while the number of companies offering comprehensive health care coverage to their transgender employees has increased to 207 from 85 in 2010 and 49 in 2009.
At the same time, the total buying power of the U.S. LGBT adult population, estimated at between 15 and 16 million people, was projected to be $743 billion in 2011, according to studies by market research firms Witeck-Combs Communications and Packaged Facts. In addition, a study by market research firm Harris Interactive found that approximately two-thirds of LGBT adults, or roughly 66 percent, would be very or somewhat likely to remain loyal to a company or brand they believed to be supportive of the LGBT community, even when less-supportive competitors offered lower prices or greater convenience.
Raising the Bar
As more companies scored higher rankings each year, the HRC Foundation implemented more stringent rating criteria to better reflect state-of-the-art LGBT diversity and inclusion practices, particularly for businesses that achieve a 100 score, which earns a company the right to use a coveted "Best Employer" trademark logo in its advertising and marketing.
The CEI's new 100-rating criteria aimed to recognize employers striving to offer full parity of health care coverage for same-sex and opposite-sex couples and their families. The new criteria also aimed to distinguish companies offering best-in-class coverage of surgical procedures deemed medically necessary for transgender employees, a group that has historically been denied medical coverage. In addition, the 2012 CEI ranked businesses more rigorously on their organizational competency programs related to LGBT inclusion as well as their public support for the LGBT community through philanthropy, legislative advocacy, supplier diversity and other initiatives.
Pfizer was recognized for its inclusion of sexual orientation and gender identity in its inclusive practices as well as its equal opportunity policy. The company also offers comprehensive coverage of same-sex domestic partners where legally permissible and transgender health care; includes LGBT in its supplier diversity program; sponsors various LGBT nonprofits and health-focused external groups; and supports the Out Pfizer Employee Network, a global colleague resource group for Pfizer's LGBT colleagues and their advocates, which leads and partners with Worldwide Human Resources, Legal, Procurement and other internal stakeholders in completing the company's CEI submission.
"Given the CEI's more rigorous criteria this year, we are particularly pleased to have earned this distinction, which clearly illustrates our success in helping Pfizer create and sustain a rich talent pool composed of visible and invisible differences and supporting a culture of fairness and engagement," said Pfizer's Chief Diversity Officer Ed Gadsden. "This recognition is a prime example of how diversity and inclusion principles enhance Pfizer's image and reputation in ways that contribute to marketplace success."
Visit www.hrc.org/cei to read the full report.