Contest Focuses Camera on
'Invisible Barriers' in Arthritis Patients' Lives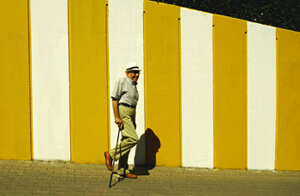 "My Shadow and Me and Relatively Invisible," a winning
photo entry from Pfizer colleague Zeynep Erek, Senior
Planning Specialist, Pfizer Turkey.
In cooperation with the Rheumatology Research and Training Association, Pfizer Turkey recently recognized World Arthritis Day by organizing a photo contest aimed at illustrating the "invisible barriers" in arthritis patients' lives.
The contest focused on the daily lives of rheumatoid arthritis and ankylosing spondylitis patients presented through photos by rheumatology, orthopedics and traumatology doctors and physiotherapists as well as Pfizer colleagues.
The winners of the contest were announced on Oct. 13, immediately after World Arthritis Day. The evaluating committee consisted of Prof. Dr. Vedat Hamuryudan, Secretary General of Rheumatology Research and Training Association, and many well-known art professionals such as Turkish film director Mustafa Altioklar and photographers Koray Pekýzkay, Mehmet Turgut and Muammer Yanmaz.
Of 51 photographs qualifying to compete in the contest, six winners were selected in various categories submitted by physicians and Pfizer colleagues. A selection of the best photos was showcased at the National Congress of Rheumatology where the winners received their prizes, which included photography equipment, at a gala dinner.
Pfizer Turkey plans to organize the contest using different themes annually.