During Upgrade,
Kalamazoo Colleagues Volunteer in Community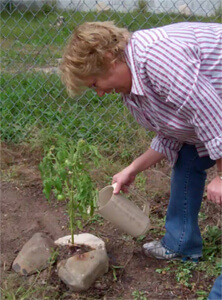 During a recent eight-week shutdown of Pfizer's manufacturing plant in Kalamazoo for a multimillion-dollar upgrade, dozens of company employees put their down time to good use by volunteering nearly 2,000 hours with local nonprofit organizations.
At the local Girl Scout camp, colleagues helped expand a beach area and built a new set of stairs down to the beach. They also demolished a few old buildings and built a retaining wall for a new deck.
Colleagues helped repair three houses for the Kalamazoo Valley Habitat for Humanity. They hung vinyl siding, painted, caulked, cleaned and built a wheelchair ramp at one house; at another, they installed a radon system, leveled the basement floor for pouring cement, installed insulation and framed the basement and first floor.
Employees volunteering for the city of Portage, Mich., helped remove a large number of flowers in city parks, which is done annually in preparation for the cold weather. Other colleagues collected and prepared care packages for U.S. troops serving overseas.
"I have enjoyed meeting new people and the opportunity to add value to not only the community but also to peoples' lives," said John David Smith, Sterile Preparation Formulation Operator, who volunteered during the shutdown.
Now complete, the $21 million upgrade enhances the Kalamazoo plant's efficiency and technical capabilities. Improvements include new heating, ventilation and air conditioning systems; enhanced vial sterilization systems; better lighting and chilled water controls for reduced energy costs; renovated office and lab space; new gowning rooms; and enhanced production efficiency, which was achieved by changing the interior layout for a better flow of people and materials.