Emmy-Winning Actress Turns Spotlight on
Lung Cancer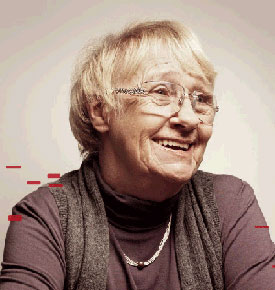 According to the World Health Organization, lung cancer is the most common cause of cancer-related death in men and women and is responsible for 1.4 million deaths annually.
But why isn't there a "pink ribbon" and a nationally celebrated fund-raising walk for lung cancer? Why is there still a smoking-related stigma surrounding lung cancer, when research shows that 60 percent of lung cancer patients are former or nonsmokers?
These are the questions actress Kathryn Joosten sought to explore when she spoke with colleagues recently via webcast in New York about her experiences with lung cancer and her commitment to increasing awareness for biomarker tumor testing. Joosten, best known for her television roles as secretary to the president on "The West Wing" and the gossipy neighbor on "Desperate Housewives," is a two-time lung cancer survivor. She is currently the only Hollywood actor to publicly discuss her lung cancer.
"Lung cancer patients hide. There's a stigma associated with this disease — like somehow we brought it upon ourselves," Joosten explained to colleagues gathered in New York headquarters and via webcast. "Those of us with lung cancer are very disappointed at the lack of information offered to the public about this disease compared with other types of cancer like breast or prostate." Citing the dearth of resources and support available to those diagnosed with lung cancer, Joosten is partnering with Pfizer to launch the Lung Cancer PROFILES campaign.
Lung Cancer PROFILES walks patients through information about molecular testing in lung cancer, how to broach the topic with a physician and what to expect when getting tested. Visitors to the site are also invited to share their stories. PROFILES is a collaboration between Pfizer Oncology and some of the nation's leading lung cancer patient advocacy groups, including Lung Cancer Alliance, LUNGevity, the National Lung Cancer Partnership and United Against Lung Cancer.
As a final word of advice to those diagnosed with lung cancer, Joosten urged them to "Get educated. Get online and start reading. Learn about your cancer and get tested for genetic mutations. I will always be living with cancer, but through testing, I've discovered other treatment options."