'Every Vaccine Is a Little Victory'
Campaign Launches in Ireland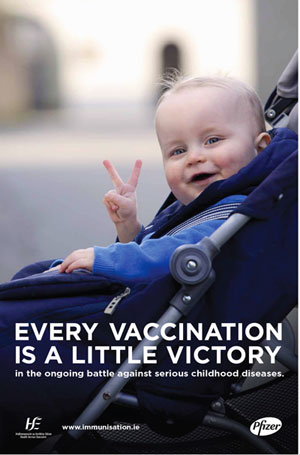 Pfizer Ireland recently began a program to raise awareness of the importance of childhood vaccinations.
The campaign, which includes television, radio, and bus shelter ads, is themed "every vaccine is a little victory in the fight against serious childhood disease," and aims to highlight the importance of childhood immunization in preventing serious disease. It was launched to coincide with European Immunisation Week 2013, which began on Sunday, April 21, and concluded Saturday, April 27.
The campaign is a unique partnership between Pfizer and Ireland's national Health Service Executive (HSE), which is responsible for providing health care in the country, on a childhood vaccination awareness campaign, which was officially launched and supported by Irish Minister for Health James Reilly.
"Vaccination is now recognized as one of the most successful and effective public health interventions for saving lives and promoting good health," said Reilly. "Prevention is a key goal in healthcare, and the ability of vaccines to prevent illness and death associated with many serious diseases is one of the success stories of scientific innovation."
Measles once killed thousands of people in Europe and the United States every year. In the 1940s and 1950s, tens of thousands of children were crippled or killed by polio. As recently as the mid 1980s, more than 100 children a year in Ireland suffered from meningitis and other serious complications as a result of routine childhood diseases. These diseases have not changed, and can still cause pneumonia, choking, meningitis, brain damage and heart problems in children who are not protected. But according to the World Health Organization and UNICEF, vaccination - along with improvements in sanitation and clean water — is now recognized as an effective public health intervention for saving lives and promoting good health.
Speaking at the campaign's launch event, Paul Reid, Specialty Care Director, Pfizer Ireland, said: "In Ireland, effective implementation of a comprehensive childhood immunization schedule has resulted in very significant reductions in the incidence of serious, vaccine preventable, childhood diseases. This new campaign aims to highlight the positive impact and health benefits of vaccines, and how they are an effective and economical way to prevent infectious disease."
Further information is available on the HSE National Immunisation website, www.immunisation.ie.