Stairway to Heaven: Record Turnout for
Finnish Health Campaign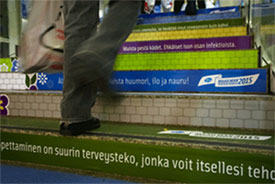 The "living stairs" in Helsinki's subway station
promote Pfizer's public health campaign.
Finnish residents have climbed all over Pfizer's latest public health campaign. More than 126,000 Finns from 321 organizations across the country participated in Pfizer's challenge to take the stairs instead of the elevators for a week in November.
Employees at five hospital districts, several municipalities, private health care providers, pharmacies, public ministries and large corporations such as IBM, Volkswagen, IKEA and Warner Music Group signed up.
And the effort, which is part of a collaborative health movement to make Finland the world's ýhealthiest nation" by 2015, has stirred plenty of attention throughout the country.
A stairwell in Helsinki's busy subway station was decorated with promotional signage and identified as ýliving stairs.ý National television and radio news covered the event as celebrities raced each other up stairwells across the country.
YouTube spread a narrative "stair adventure" to encourage stair climbers. Sign-up rosters were updated in real time and spread via Twitter, Facebook, and electronic advertisements. Many Web sites, including Finland's largest online health care newspaper, promoted the week-long campaign.
Pfizer Finland launched the Healthiest Nation campaign in 2008. The concept engages the government, cities and regions, as well as private companies. Since then the campaign has focused residents, businesses, municipal and national government and the media on better health, while enhancing Pfizer's role in working toward a healthier world.
The latest effort focused on making everyday exercise such as stair climbing more appealing.
The regional government of Northern Karelia has invested to implement the Healthiest Nation campaign on the local level, highlighting the benefits of public-private collaboration in the field of health promotion.
"Like Gatorade's Replay campaign utilizes deep emotions by stories of second chances and getting back in shape, Pfizer's Healthiest Nation campaign helps people to do something they dream of anyway: adopt healthier lifestyles," says Niko Palosuo, Corporate Affairs and Communications Director, Pfizer Finland.
"The large public-private partnership gets people excited in doing simple but trendy things together. Add a strong local context, such as a city, employer, or even a small nation and it works. The hard part is figuring out how to communicate clearly about complex issues such as health, but we're learning new ways all the time."