First Nursing Scholar
Raises Awareness About Patients in Need in Kalamazoo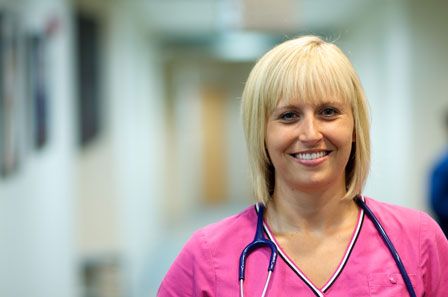 A local nursing student and first-time recipient of a unique Pfizer scholarship is raising awareness about patients who are struggling to receive health care by writing about her experience this summer at a community health care center in Kalamazoo, Mich.
Jennifer Rayman, a nursing student at Kalamazoo Valley Community College (KVCC), was so inspired by her recent externship at the Family Health Center (FHC) in Kalamazoo that she's blogging about her efforts there to help educate the public about the challenges facing patients in need.
From her first blog entry: "It was more eye-opening moments when I drove down on Paterson Street, stepped foot into FHC, or worked with my first patient that I realized that there is a whole new population in Kalamazoo that I never knew existed... how could I have been that naive?"
From another entry: "A large majority of patients we see are struggling financially with no insurance, no jobs and little education, so things are more frustrating for them. ...Most people are there to find out what's wrong with them and are just happy that people are treating them like a human being."
Rayman's externship was part of a pilot scholarship program launched earlier this year by Pfizer's facility in Kalamazoo with KVCC. The Pfizer Community Healthcare and Service Scholarship funds a year's tuition and a 15-week externship with a local, federally qualified community health center, giving a nursing student real-world experience with uninsured patients and others who struggle to get health care. Pfizer also encourages the student to share the experience in a way that educates others about the need for access to quality care.
The externship was an eye-opening experience, Rayman said.
"There's a learning curve for me in general for diversity and socioeconomics," she said. "I'm learning to step back and put my [previous] beliefs aside," she said.
FHC, which participates in Pfizer Helpful Answers' Sharing the Care program, and the college helped her launch a blog about her work and post a video interview online, using social media to educate others in the community and beyond.
Rayman also posted an interview on the college's Web site and was featured in a news release for local media.
Kendra Stetser Rowe, community relations director for FHC, hailed the partnership with Pfizer as a way to directly address the health needs of a disadvantaged population. "It bridges the world between privilege and need and helps heal that divide," Rowe said.
Added Gloria Barton Beery, director of the school's nursing department, "This partnership with two great health care organizations, Pfizer and Family Health Center, promotes local health while educating the community on needs and resources."
But the most powerful impact may be on Rayman—and on the lives she's touched.
"I can't tell you how many times this summer it has all made sense to me," she said. "It's all coming full circle."