First Pfizer Global Supply Colleagues
Go Bald for Childhood Cancer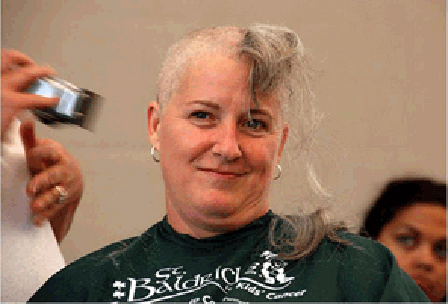 The cafeteria at the Pfizer Global Supply plant in Sanford, N.C., recently turned into a barber shop as a team of 14 colleagues had their heads shaved in front of their peers to raise money for childhood cancer.
The team raised nearly $30,000 to date, surpassing the original goal of $25,000. The money was donated to The St. Baldrick's Foundation, which funds grants for childhood cancer research in the U.S.
Pfizer's participation was the idea of Hope Buchanan, a senior quality specialist who has had her head shaved three previous times for St. Baldrick's.
"I couldn't think of a better way to raise the money than posing a challenge to management here," Buchanan said. "And they willingly accepted."
Site Leader Dennis Jones took the challenge a step further by not only shaving his head, but shaving his beard as well for an additional donation of $1,000.
The team of "shavees" originally had 13 colleagues, but Kevin Lloyd, Manager, Operations & Systems Support, was so impressed by the event that on the spur of the moment he challenged the audience to pledge $100 for him to have his head shaved. Colleagues immediately donated three times his request, and he joined the others in going bald.