For 10th Consecutive Time,
Company Earns Highest Distinction on Key LGBT Corporate Ranking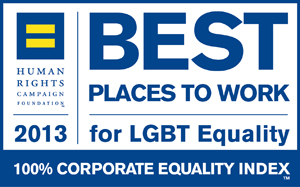 For 10th Consecutive Time, Company Earns Highest
Distinction on Key LGBT Corporate Ranking
Pfizer recently earned a 10th consecutive "100" ranking — the highest possible — in the 2013 edition of the Corporate Equality Index (CEI), the leading survey that evaluates U.S.-based businesses on their treatment of lesbian, gay, bisexual and transgender (LGBT) employees, customers and investors.
Pfizer has earned a 100 score each year since the 2004 edition of the CEI, which is published annually by the Human Rights Campaign Foundation, an education and research-focused arm of the Human Rights Campaign, the largest LGBT advocacy nonprofit in the U.S.
Since its launch in 2002, the CEI has grown to become the country's leading benchmarking report for the rising number of businesses competing to recruit and retain top talent and positively influence LGBT consumers, whose buying power was projected to be $743 billion in 2011, according to various market researchers. A study by market research firm Harris Interactive also revealed that approximately two-thirds of LGBT adults, or roughly 66 percent, would be "very likely" or "somewhat likely" to remain loyal to a company or brand they believed to be supportive of the LGBT community, even when less-supportive competitors offered lower prices or greater convenience.
Businesses that achieve a 100 score on the CEI are given the right to use in their marketing and advertising a coveted "Best Employer" trademark logo that has become a highly recognized symbol of distinction in the LGBT community.
Pfizer was recognized for its organizational support of the LGBT community through its corporate policies, philanthropic efforts, supplier diversity program and other initiatives. In addition to the inclusion of sexual orientation and gender identity in its practices and equal opportunity policy, the company also offers comprehensive benefits coverage of same-sex spouses and domestic partners where legally permissible as well as transgender health care. The company also sponsors the Out Pfizer Employee Network (OPEN), a global colleague resource group for Pfizer's LGBT colleagues and their advocates. Each year, OPEN colleague volunteers lead and partner with other internal Pfizer departments in completing the company's CEI submission.
"We are extremely pleased to have reached a 10-year anniversary in earning this coveted ranking, which is a key indicator of our commitment to fair and inclusive workplace practices," said Beth McCormick, Vice President, Diversity and Inclusion. "This distinction illustrates how diversity and inclusion principles contribute to Pfizer's business success."
Click here to read the full CEI report.