Foundation Aids Bolivians with
Urological Disease
By Mónica Piñuela, PfizerWorld Correspondent Network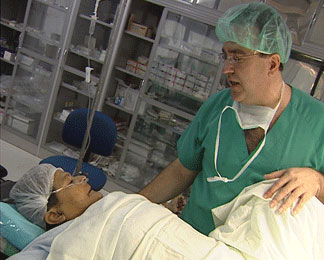 A Spanish surgeon with a Bolivian patient prior to surgery
Since 2007, the Spanish Pfizer Foundation has been collaborating with the Spanish Society of Urology and Fundación Hombres Nuevos to provide health assistance to Bolivians with urological diseases and limited economic resources.
In that time, the initiative has resolved more than 750 health assistance requests, and 250 urological disease-related surgeries have been carried out by volunteer physicians from Spain.
Known as the Bolivian Humanitarian Co-operation Program, it is designed so that urological-related diseases and disorders can be promptly diagnosed and treated and, when necessary, surgery can be performed.
In Bolivia, the prevalence of urological and renal pathologies is higher than in other areas in the world due to climate factors, such as humidity and high temperatures, and everyday living conditions.
Improving Health Conditions
The Spanish Pfizer Foundation provides experience in urological pathologies and all necessary technical equipment to carry out the surgeries as part of the company's objective to improve health conditions by covering unmet medical needs. Funding is also provided by Pfizer's Toviaz brand team in Spain. Toviaz is a Pfizer treatment for overactive bladder symptoms.
The program is conducted in Santa Cruz de la Sierra, Bolivia's second-largest city, where there are no physicians who specialize in urology. In fact, most local patients who need medical assistance have never been evaluated by a physician.
Local awareness of the initiative stems from a public health campaign that is conducted twice per year, primarily through hospital bulletin board advertisements. Volunteers also travel to Bolivia in advance of the campaign to do interviews with local media outlets to raise public awareness of the program.
Surgeries are performed by a team of three urologists and an anesthesiologist from Spain who volunteer their time. They treat problems such as bladder prolapses or urinary incontinence, kidney stones and prostate issues. Patients are evaluated quickly and the most urgent or serious cases are treated first.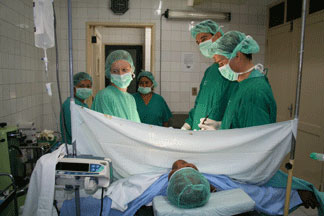 Surgeries are handled by a Spanish team of volunteer
physicians
After hearing about the initiative in 2007, Spanish physician Encarnación Buendía decided to join as a volunteer. "The cases and circumstances we found in Bolivia were very different from what we were used to in our hospitals back home," she said. "In some cases we have had to surgically treat some pathologies that would be treated with medicines in Spain. However, in Bolivia, most people can't afford medicines, so surgery was the solution for them.
"We also had to learn another way of working. One of our main difficulties was the lack of a blood bank in the hospital. So we have to program surgeries with blood needs in advance and look for a compatible relative of the patient and coordinate our performance."
Mónica Piñuela is a Communications Manager for Pfizer Spain.