'Get Old'
Takes the Stage With Key US Policymakers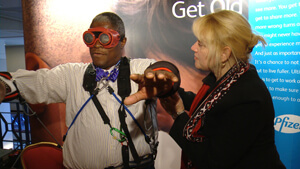 Through its participation in a U.S. Conference of Mayors meeting, Pfizer is strengthening its role in shaping the conversation about healthy aging.
As part of Pfizer's ongoing Get Old efforts, which aim to help people take a new approach to the challenges of living longer, the company works with key leaders and organizations that help an aging population live better. One of these partnerships is with the U.S. Conference of Mayors (USCM).
At the USCM Winter Meeting in Washington, D.C. in January, the company sponsored a panel discussion focused on aging-related issues relevant to cities and important to elected officials, communities, and key audiences for Get Old. The discussion provided a forum for exploring strategies and ways to prepare for the coming wave of older adults, share best practices, and inspire leaders and community organizations everywhere to think and act more boldly and decisively about how to meet this challenge.
Pfizer's Sally Susman, Executive Vice President, Policy, External Affairs and Communications, introduced the panelists:
John Feather, PhD, CEO, Grant Makers in Aging (moderator)
Ruth Finkelstein, Senior Vice President for Policy and Planning, NY Academy of Medicine;
The Honorable Greg Ballard, Mayor, Indianapolis, Indiana;
The Honorable Greg Stanton, Mayor, Phoenix, Arizona; and
The Honorable Sly James, Mayor, Kansas City, Missouri
"A collectively healthy, independent older population can make positive contributions to the economy and to society," said Susman during the introduction. "But growing older while maintaining health, wellness, and vitality over the course of a century takes some work and none of us can do it alone. The recipe is different for everyone. This is where the private sector, civic groups, and local governments can work together to make sure a variety of options are available to suit the diverse needs of the aging population."
Pfizer also hosted an exhibit at the meeting featuring AGNES (Age Gain Now Empathy System) 2.0, designed by the Massachusetts Institute of Technology's (MIT's) AgeLab to mimic anatomical changes that occur naturally as we age. Bungees, straps, and braces compress the spine and limit spinal rotation and extension, reduce cervical rotation, restrict joint mobility, and increase stiffness. Shoes with foam create imbalance; tinted goggles imitate the yellowing of the lens; earplugs reduce hearing; and latex gloves reduce tactile sensation.
AGNES 2.0 has been used in numerous places to assess the difficulties older adults might face doing everyday tasks from work to play. Ultimately, the insights gained can encourage understanding between generations and inspire better design of products, services, and systems to improve life tomorrow for older adults.
The USCM is the official non-partisan organization of cities with populations of 30,000 or more in the United States. There are 1,295 such cities in the U.S. today. Each city is represented in the Conference by its chief elected official, the mayor.