By Pfizer Medical Team
As one of the key dimensions of Wellness, practicing mindfulness in your every day life can bring many health benefits.
Some studies even show that regular Mindfulness practice can help reduce stress and anxiety in your life.
One great way to really get to the heart of your grey matter is to practice a combination of mindfulness meditation with Cognitive Behavioral Therapy (CBT) – otherwise known as Mindfulness-Based Cognitive Therapy (MBCT).
MBCT is a relatively new form of help that combines Eastern philosophy and practice (Mindfulness) with Western philosophy and practice (Cognitive Behavioral Therapy). It is designed to help people deal with multiple issues such as depression and anxiety, and can be used to treat symptoms, and to prevent problems from returning
Meditate on this!
A recent study of stressed individuals who practiced mindfulness for 8 weeks experienced a decrease in the size of their amygdala, the part of the brain that is responsible for fear and the many changes that it causes in the body. Excessive stress can cause fearful and worried feelings and the amygdala responds by becoming "hot" and over-active. The study showed that meditation appeared to "cool" down this important part of the brain.
We can't stress these facts enough!
Generally speaking, meditating and mindfulness will help you develop and maintain a more positive frame of mind by reducing your emotional reaction to stressful events.
Try the mindfulness exercises below and start to get your "Om" on!
A mindful moment with a raisin (a mindful eating experience):
Slowly eat a raisin and use all of your senses, one after another, to observe the raisin in great detail, from the way it feels in your hand to the way its flavor bursts in your mouth. This exercise reminds us that eating a single raisin can be a truly mindful experience and offers us a glimpse into how often we go through life in a mindless haze. Don't like raisins? Don't worry – you can try this mindfulness exercise with different foods like a piece of chocolate or a grape. Once done, be sure to congratulate yourself on completing a mindfulness exercise!
Now let's try a cognitive (thought) exercise
Sometimes the automatic thoughts we have are inaccurate and cause us distress. Take a moment and read the description below. While doing so, imagine you are in the scenario.
Walking down the street cognitive exercise:
You're walking down the street
On the other side of the street you see someone you know
As they pass you on the street, you smile and wave
The person does not wave back and keeps walking
While doing this exercise, what thoughts did you have?
While doing this exercise, what feelings did you have?
While doing this exercise, what bodily sensations did you experience?
As you reflect on your answers above, if you had any negative thoughts, feelings, or bodily sensations, please consider this - is it possible that you misinterpreted the situation?
Let's do a Cognitive (thought) exercise together – What if the person didn't see you waving to them or they didn't recognize you? Or, what if they were preoccupied and not aware of their surroundings? Do you now see how automatic thoughts, feelings, and bodily sensations may not be 'accurate'? By using our cognitive thoughts, we can challenge these negative perceptions.
By understanding how you react to and interpret this scenario, you will have experienced a cognitive exercise. Congratulations!
If you'd like to explore CBT further but need help, ask your healthcare professional for more information.
Want to get started with becoming more mindful?
Download this tool.
My Action Plan
Download full brochure now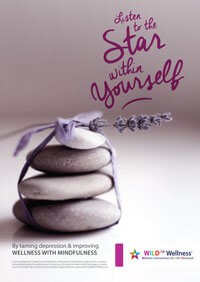 Following these recommendations should be under the care of your physician, as results may vary.
Medically reviewed by Elizabeth Pappadopulos, PhD, Global Medical Affairs, Pfizer
Visit Get Healthy Stay Healthy for more information on Your Health