Giving Hope,
New Start to Landmine Victims in Colombia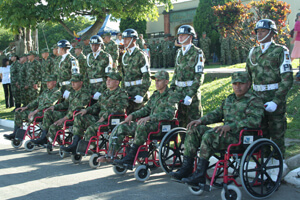 Colombian National Army soldiers who are disabled
due to landmine and improvised explosive device
injuries will receive academic aid from Pfizer Colombia
A recently signed agreement between Pfizer Colombia and a local nonprofit organization, Fundación Héroe Camina — or the Hero Walking Foundation — will provide academic scholarships to 52 Colombian National Army soldiers who are disabled due to landmine and improvised explosive device (IED) injuries.
The agreement, signed at the Fourth Brigade of the Colombian Army in Medellin, will allow the soldiers to pursue technical and four-year college degrees, and supports Hero Walking Foundation's mission to help disabled military personnel reintegrate into civilian life. Through the assistance of the organization, several soldiers, many of which only possess an elementary education, have graduated from high school.
By offering health counseling and enrichment programs in education, housing and work inclusion, Hero Walking supports the rehabilitation of soldiers, aged 18 to 21, who were injured and partially or completely disabled during active duty. The Foundation also aims to bring awareness to the country's landmine crisis.
Sylvia Varela, General Manager, Pfizer Colombia, Emerging Markets Business Unit, who was present at the signing of the agreement, said that Colombia has had more than 9,800 people affected by landmine injuries since 1990.
"The large majority of these Colombians are members of the military forces and the police who, as a result of their duty to defend their country, have had to confront the hard reality of losing parts of their bodies," she said.
Colombia has the second-highest landmine casualty rate in the world after Afghanistan. Landmines and IEDs are remnants of nearly five decades of ongoing civil conflict between the government, guerillas and paramilitary groups, and are placed near guerrilla camps and drug laboratories throughout rural areas to prevent army strikes.
Soldiers make up 62 percent of the casualties to date, and roughly 38 percent are civilians, according to the Presidential Program for an Integral Action against Mines.
"Our main motivation is to cooperate with worthy initiatives from Colombian institutions, such as Hero Walking and the Army, in order to contribute to the government's concern to address mental health and depression," said Varela. "Our alliance with Hero Walking has been highly commended by the press and our stakeholders, and has had a great reputational impact."