Global Health Fellow's Experience
Opens Doors Back Home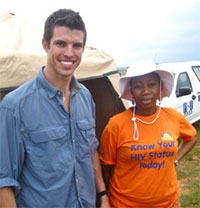 Neal Piper (l.), and a volunteer from
Population Services International at
an HIV-testing facility in a remote
village in Swaziland
Neal Piper returned as a changed man from a six-month Global Health Fellow assignment in Swaziland last year.
His experience in a country where more than 40 percent of the population has contracted HIV/AIDS - the world's highest infection rate - was a life and career altering experience that has opened doors for him back home in ways that he never would have expected.
"The program has had a significant impact on me, both personally and professionally," says Piper, who works as a Territory Specialty Representative in the Psychiatry Division of Specialty Care in Atlanta. "In terms of my current role, it's given me a lot of exposure in the field on the sales side. People knew who I was when I returned and it's helped me build relationships with my district manager and senior leadership team."
Work in Swaziland
In Swaziland, his work with Population Services International (PSI), a nongovernmental organization that promotes products, services and healthy behavior among low-income residents, centered on encouraging the use of condoms, raising awareness of the health risks associated with multiple partners, and helping to launch Swaziland's first male circumcision clinic - in a country where polygamy is common and condom use and circumcisions are not.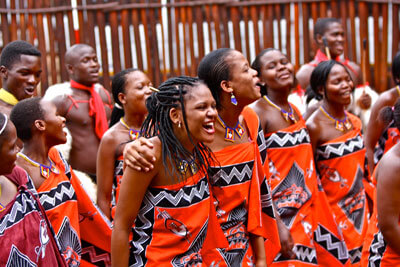 A celebration at a local event in Swaziland
Studies show that circumcision reduces the risk of acquiring HIV by 60 percent, Piper noted. To emphasize that point, he created a documentary to share throughout Swaziland. Among those who saw it was a four-star general who reports to President Obama and the Minister of Health in Swaziland. The video, titled "Mlungisi's Journey: Male Circumcision in Swaziland," can be viewed by clicking here.
Once on the ground, Piper helped in training PSI's sales force to educate their clients about healthy living and the proper use of products that can prevent HIV; and promoting the group's maternal and child health products that can prevent diseases from contaminated water.
He was also at the center of a massive cholera outbreak and helped coordinate the distribution of 1 million water disinfectant tablets throughout the country; he appeared on local television to promote PSI's work; and he documented much of what he saw on video, which later appeared on CNN. To watch video highlights from Piper's assignment in Swaziland, click here.
When Piper returned, he was surprised at the level of interest in his experience and the sales opportunities that have opened up since then.
"About three months ago, for example, a new account was added to my territory - Anchor Hospital" in Atlanta, he said. "It's a brand-new, 120-bed, psychiatric hospital. I visited this account four times without any success in terms of access. The final time that I went in, I mentioned that I had been a Global Health Fellow and would like to share how Pfizer is impacting global health. The receptionist immediately gave me a badge and introduced me to the clinical pharmacy director who set up an opportunity for me to come back and present to her staff, including 30 doctors, pharmacists and nurses. We had a standing-room-only event.
"I showed a video from my fellowship. People continuously poured in and a second group of people came in afterwards to watch. It was definitely the first time in a sales role that I've had people crammed into a room to listen to a presentation. So it opened up this opportunity to reach out to a group of individuals who hadn't heard anything about Pfizer's role in global health care before or the products that I represent."
A Global View
Piper's manager, Shannon Lewis, a District Manager in Specialty Care, said: "Neal returned from his Global Health Fellows trip with a much better feel for the global scale of Pfizer and its positive impact on health care in underserved parts of the world."
Piper's experience in Swaziland also led to a recent temporary assignment with Pfizer's Global Malaria team in New York, working with Gerhard Hagn, who leads the team and is also an alumnus of the Global Health Fellows program. Piper hopes to continue working on malaria-related projects through the Emerging Markets Business Unit, and Corporate Responsibility, as well as a partnership project that connects returning Global Health Fellows with the GHF alumni.
To learn more about Global Health Fellows Program, Corporate Responsibility's Flagship program in our Investments in Health portfolio, visit www.pfizer.com/responsibilty.