Global Health Fellows
Alumni Honored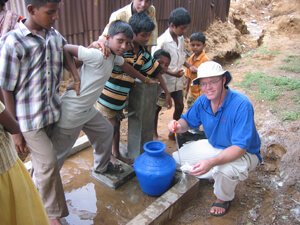 Tibbetts (r.) and children during his Global Health Fellow
assignment in Vellore, India
Health Volunteers Overseas (HVO) has honored a group of Pfizer Global Health Fellows who worked with its collaborating institution in India with the 2012 Golden Apple Award.
The award recognizes the contribution that 14 Pfizer Global Health Fellows who served fellowships in India have made since 2004 in developing new organizational systems and approaches at the Christian Medical College in Vellore, India. Their efforts resulted in accreditation of its hospital standards by India's National Accreditation Board for Hospitals and its laboratories by India's National Accreditation Board for Testing and Calibration Laboratories.
HVO is a 25-year-old network of health care professionals, organizations, corporations and donors committed to improving global health through education. The Christian Medical College was one of the inaugural partners in Pfizer's signature international corporate volunteer program. Thirty-two Global Health Fellows served three- to six-month assignments with HVO's collaborating organization between 2003ý2010.
The HVO Board of Directors created the Golden Apple Award in 2006 to honor volunteers who have demonstrated an extraordinary commitment to HVO's ideals of education and the transfer of knowledge.
This year's honorees were announced on April 6, the eve of World Health Day, and honored at a ceremony on April 14 in Washington, D.C.
One of the honored Fellows, Mark Tibbetts, a scientist based in Groton, Conn., accepted the honor on behalf of the larger alumni group, which included:
Jacqueline Atallah, Business Operations Lead, Kirkland, Canada;
Tami Evans, Director, Medical Affairs, Primary Care, Indianapolis, Indiana;
Roy Gomez, Senior Medical Manager, Endo, Brussels, Belgium; and
Anja Guntermann, Senior Process Manager, Freiburg, Germany.
"This recognition means so much to us. I hope it will be a source of motivation and inspiration for colleagues to apply to work as Global Health Fellows and to lend their skills where impacts to organizations are real," said Gomez. "This demonstrates that our effort has led to tangible outcomes."
"When corporations engage beyond funding and direct program support and commit to building the capacity and internal operations of NGOs, a positive result is felt by all stakeholders," added Caroline Roan, Vice President, Corporate Responsibility and Reputation.
For more information about the Global Health Fellows program, click here.