Greek Colleagues
Brighten Rehab Center's Grounds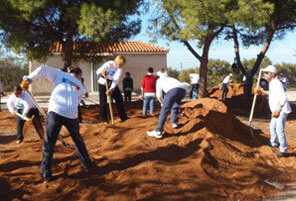 Pfizer Greece colleagues recently revamped the environment for the children at the Rehabilitation Centre for Handicapped Children in the southern suburb of Voula in Athens.
The government-operated facility houses and provides care for 157 children with mental retardation and physical disabilities and is among the nonprofit organizations that have seen their budgets cut drastically following the economic crisis.
"Every helping hand gives us the hope and courage to continue," said the center's director, Evangelia Chalvatza.
The volunteers designed the grounds of the facility with the help of the international nonprofit organization Agronomists of the World. They planted shrubs, therapeutic herbs of Greek origin, and a small raised vegetable patch to help teach the children how vegetables grow and to allow those with mobility issues to take part in harvests.
"We gave a message of humanity and solidarity to improve the daily lives of these children who need us," said Erik Nordkamp, Primary Care Business Unit Head and Country Lead, Pfizer Greece. "Social responsibility is inextricably intertwined with our mission but also with the culture at Pfizer Hellas. Our goal is that this effort will continue with new initiatives and actions based on the participation of our colleagues."