Hands
Up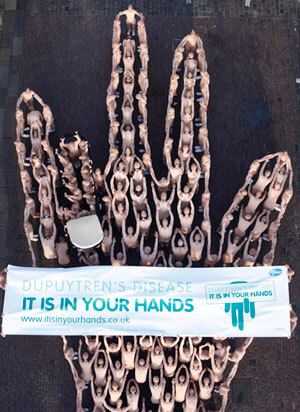 Two hundred performers created a giant human hand in London's Covent Garden to visually illustrate a symptom of Dupuytren's disease, a progressive and debilitating hand condition.
The event marked the launch of a campaign, developed by Pfizer, called "Dupuytren's Disease: It is in your hands," designed to raise awareness of the signs, symptoms and impact of the condition.
Through a new website and road show, touring the U.K. in November, the campaign is also providing information to those who may be living with Dupuytren's disease, highlighting the importance of speaking with their doctor for further advice.
The condition — which affects approximately two million people in the U.K. and, on average, about 1–3 percent of the total population of the world's Western industrial countries — can gradually advance into Dupuytren's contracture, where the affected finger or fingers permanently bend inwards into the palm of the hand.
Although not life threatening, it can be life limiting, explained the chairman of the International Dupuytren Society, Wolfgang Wach.
"Dupuytren's contracture can have a significant emotional and economic impact on quality of life," he said. "Our hands are crucial to everyday life and Dupuytren's contracture can affect the simplest things, like typing freely on the computer, writing, washing or even just shaking someone's hand."
Consultant Hand Surgeon Mike Hayton added: "Awareness of Dupuytren's contracture is low but there are various treatment options available. If you think you have Dupuytren's contracture, speak to your general practitioner who will be able to give you further information and if appropriate, refer you on to a specialist to discuss treatment options."
For more information and advice on recognizing the signs and symptoms of Dupuytren's disease or contracture, visit the new website at: www.itisinyourhands.co.uk