At Pfizer, our commitment to ensuring access to health resources — including vaccination — spans from humanitarian aid initiatives in developing nations to innovative commercial efforts in underserved communities in the United States, where approximately 30% of Hispanic and 35% of African American children aged 19-35 months were not fully vaccinated with all CDC-recommended immunizations as of 2017.1 We know that solutions providing increased health access in these communities will require fresh thinking, diverse collaborations and tailored approaches to the unique needs of each community.
That's why, in 2017, our Marketing team joined with our Field Force colleagues in low-immunization communities to bring forward big ideas to improve vaccination awareness. Thus, Partnering to Help Protect was born – piloted in 2018 in Detroit, Houston, Memphis, Philadelphia and Pittsburgh – in collaboration with local non-profit groups and health systems to sponsor programs that promote vaccination of babies according to the CDC-recommended immunization schedule.
In each market, leveraging the knowledge and networks of our Field Force, we have engaged credible organizations and influential voices in the community to address specific barriers to vaccination, especially in lower income African American and Hispanic communities. Through a diverse mix of activities, the Partnering to Help Protect program has reached over 12.8 million people with health and vaccination education resources, addressing a vital need to help protect our children from vaccine-preventable diseases.
"The YMCA is all about building better and healthier communities, and we're so fortunate to work with Pfizer to be able to bring health and vaccination education resources to families." – Lharissa Jacobs, Community Development Executive Director, YMCA of Greater Houston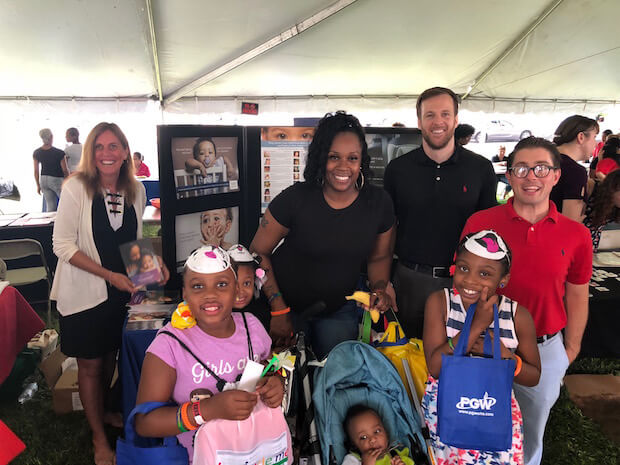 Pfizer colleagues with a family in Philadelphia
Program Highlights:
Detroit: In collaboration with the Henry Ford Health System and Wayne State University, we have sponsored 10 vaccination events to-date. We also developed a TV and radio public service announcement (PSA) featuring former professional football player Herman Moore, which directs audiences to VaxDetroitBabies.com for more information about vaccinations. The PSA has reached over 9.8 million Detroit residents.
Houston: Working with the YMCA of Greater Houston, we have supported 14 health and vaccination events to-date held by local health care organizations throughout the city, including in an area where 32% of residents live below the federal poverty level. We're also collaborating with the YMCA and Univision to promote important vaccination information in Spanish-language radio and television.
Memphis: Working with the Shelby County Department of Health, Church Health and the National Pharmaceutical Association, we have sponsored 6 health clinics that administer important routine health screenings and vaccines to appropriate infants, adolescents and adults in local churches that serve as the hub for their communities. We also developed an in-church PSA featuring jazz musician Kirk Whalum to remind congregation members about the importance of childhood vaccination.
Philadelphia and Pittsburgh: In collaboration with the local chapters of the Urban League, we have supported 17 health education events, reaching over 50,000 people with information about important childhood immunizations. Through the Urban League networks, we have gained access to important family support centers that specialize in providing resources and education to more vulnerable patients. We have also supported a local social media and direct mailer campaign from the Urban League around vaccine-preventable diseases.
"I am proud to be involved in the Partnering to Help Protect program, which has created a new opportunity for my team to meaningfully engage in grassroots efforts with influential partners to help protect babies and support families." – Mickie Cole, Pfizer Vaccine Account Manager – Tennessee
Detroit vaccination PSA featuring retired football player Herman Moore
1Hill HA, Elam-Evans LD, Yankey D, Singleton JA, Kang Y. Vaccination Coverage Among Children Aged 19–35 Months — United States, 2017. MMWR Morb Mortal Wkly Rep 2018;67:1123–1128. DOI: http://dx.doi.org/10.15585/mmwr.mm6740a4.