In Laos, Pfizer Thailand Foundation
Sponsors Fellowship Training for Pediatricians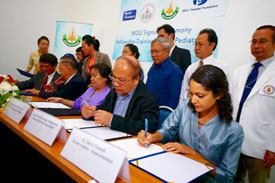 The Pfizer Thailand Foundation is offering scholarships for pediatricians in the Lao People's Democratic Republic, also known as Laos, to attend a three-year training program in hemato-oncology, as well as infectious diseases in children, at the Faculty of Medicine, Khon Kaen University, Thailand.
The program aims to address the shortage of health care practitioners in these specialized disciplines within Laos, a land-locked country in Southeast Asia bordered by Myanmar, China, Vietnam, Cambodia and Thailand. The country's population is estimated to be approximately 6.5 million.
Upon completion of the course, participants will receive Ph.D.-equivalent certification and will serve as instructors for other Laotian pediatricians with an aim of supporting sustainable health care advancement in the country.
The program's curriculum is being jointly developed by the Faculty of Medicine at Khon Kaen University and the University of Health Sciences, and certified by the Ministry of Education of the Lao People's Democratic Republic.
"In Laos, most physicians are non-specialty residents," noted Christian Malherbe, Country Manager, Pfizer Thailand, and board member of the Pfizer Thailand Foundation. "The program provides us the opportunity to contribute to the development of the country's medical personnel because not only will the graduates be able to address the medical needs of children after they complete the training, they will also be sharing their knowledge with other pediatricians in the country. The program demonstrates our commitment to give back to the community and really makes me proud to work at Pfizer."
The Pfizer Thailand Foundation is conducting the initiative in collaboration with Khon Kaen University's Faculty of Medicine in Thailand, the Lao People's Democratic Republic's University of Health Sciences, and Health Frontiers, a U.S.-based nonprofit organization focused on domestic and international health-related activities.