Irish Olympic
Gold Winner Champions Pfizer Healthy Towns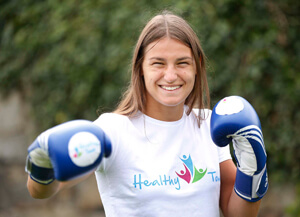 Olympic Gold Medal winner Katie Taylor at the launch
event for Pfizer Ireland's Healthy Towns initiative.
Katie Taylor, Ireland's Olympic Gold Medal winner in boxing, recently lent her support to the launch of Healthy Towns, a new initiative sponsored by Pfizer Ireland and The Irish Times, a leading national newspaper, which aims to increase the health and wellness of an entire town or city.
The initiative, which is being piloted for 10 weeks in the town of Kilkenny, Ireland, offers a range of activities, including free health checks; walking, cycling and swimming events and programs; food tastings; and talks on subjects such as mental health, stress, nutrition, family and parenting, healthy aging, smoking cessation and cardiovascular fitness.
The Irish Times will feature updates about the initiative in its weekly health supplement, HEALTHplus, and in a specially designed Healthy Town microsite that will be housed on the main Irish Times website. The initiative will also be promoted through local advertising and outreach.
The project was developed and implemented in partnership with stakeholders such as the Kilkenny County Council, Ayrfield Medical Centre, Waterford Institute of Technology, Kilkenny Recreation and Sports Partnership, the Irish Heart Foundation and the Irish Cancer Society. Health checks and evaluation of the initiative will be conducted by the Centre for Health Behaviour and Research at the Waterford Institute of Technology.
"Achieving and maintaining good health requires effort, hard work and persistence," noted David Gallagher, Managing Director, Pfizer Healthcare Ireland. "This can be a challenge with busy daily lives. Many leading health issues are now related to obesity and diabetes and these will only be addressed when communities construct their local environments in ways that promote health and when individuals take action."
Taylor, in her first public appearance since winning her gold medal at the 2012 London Summer Olympic Games, attended the Sept. 5 launch event — which drew legislators, business leaders, academics and the media — in Kilkenny's historic Parade Tower in Kilkenny Castle.
"We are honored that Kilkenny has been selected as the first location to host The Irish Times/Pfizer Healthy Towns program," said Councillor Seýn ý hArgýin, Mayor of Kilkenny. "I'm delighted at the support from across the community and encourage people to take this great opportunity to get healthy, and I look forward to leading this initiative actively by my own example."
The initiative comes at a time when the number of people classified as overweight or obese has increased dramatically in the past two decades, according to the World Health Organization and other health authorities. Statistically, obese people are at significantly greater risk than the general population of experiencing hypertension, type 2 diabetes, angina, heart attack and osteoarthritis.
In Ireland, it is estimated that, at present, approximately 39 percent of the country's adults are overweight and roughly 18 percent are obese. According to the country's Department of Health, about 2,000 premature deaths will be attributed to obesity in 2012 alone, and the number is expected to continue climbing in the coming years. Childhood obesity is also on the rise, both in Ireland and across Europe.