Lung Cancer Foundation
Recognizes Pfizer Campaign as 'Simply the Best'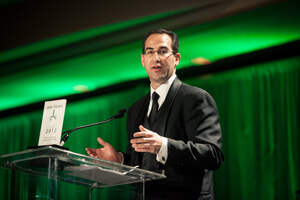 The Bonnie J. Addario Lung Cancer Foundation recently honored Pfizer with the Dr. Fred Marcus "Simply the Best" Award for the development of Lung Cancer PROFILES, an educational campaign for consumers and health care professionals that aims to decrease the stigma of lung cancer and increase awareness of the importance of diagnostic testing.
Pfizer designed the campaign in partnership with the leading lung cancer advocacy organizations in the U.S., including the Bonnie J. Addario Lung Cancer Foundation, LUNGevity, National Lung Cancer Partnership, Uniting Against Lung Cancer, Lung Cancer Foundation of America, and Lung Cancer Alliance. These six organizations worked with Pfizer from the beginning of the campaign and provided feedback on the concept, content and strategy.
Andy Schmeltz, Regional President, United States, Pfizer Oncology, accepted the award on Pfizer's behalf and talked about the importance of Pfizer's partnership with the advocacy organizations.
"I am honored to accept this award, and accept it in the name of the 100,000 plus Pfizer colleagues whom I am proud to represent tonight," Schmeltz said at an event that brought together patients, families, and top minds in the field to celebrate the contributions of extraordinary participation in the fight to end lung cancer. "A remarkable number of them have been touched in some way by cancer. Pfizer cares, and we are fully committed to the cause. Through Lung Cancer PROFILES, we saw a number of the nation's leading lung cancer organizations, including the Bonnie J. Addario Foundation ... working hand in hand with each other, and with us at Pfizer. We saw wonderful people, including Lung Cancer PROFILES spokesperson, the late Kathryn Joosten of the TV show 'Desperate Housewives,' step forward with their inspiring stories to launch this groundbreaking effort. We saw others join in, using their messages to encourage others that the world of molecular testing is growing fast, and offering new hope for those suffering from lung cancer itself."
The Bonnie J. Addario Foundation was founded by a lung cancer survivor determined to transform the ways in which lung cancer is understood and treated. The award Pfizer earned is named for the late Dr. Frederick (Fred) Marcus, a lung cancer specialist and a lung cancer patient who was Addario's doctor.
"We are making it clear that lung cancer is no longer a fearsome monolith but rather, a challenge that we will conquer together, sub-type by sub-type, patient by patient," added Schmeltz.