Michael Ehlers Discusses
Neuroscience Research Opportunities in 'Nature'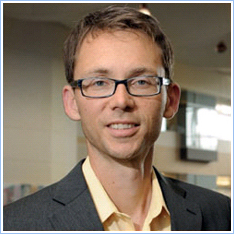 Michael Ehlers, Chief Scientific Officer,
Neuroscience Research Unit
Michael Ehlers, Chief Scientific Officer of Pfizer's Neuroscience Research Unit (RU), discusses the challenges and opportunities in the field of neuroscience research in a special advertorial featured in the latest edition of the journal Nature.
The Q&A — entitled "Inside View: Pfizer" — focuses on advances in neuroscience pharmaceutical research, Ehlers' own transition from academia to industry, and the opportunities for researchers at the RU's new home on the campus of the Massachusetts Institute of Technology in Cambridge.
"I believe that there has been no other area of biology over the last decade with as many advances as neuroscience. There has been a remarkable convergence of technology at many levels, including genetic sequencing, imaging techniques and computational analysis," said Ehlers. "I think life scientists at all levels are recognizing the opportunity in neuroscience. Look at the number of neuroscience majors, graduate programs, new institutions, publications, memberships in professional societies — many of these have seen exponential growth."
Click here to read the full interview.