Michael Ehlers
Recipient of Prestigious Thudichum Medal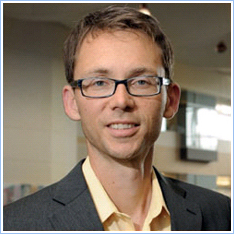 Michael Ehlers, Chief Scientific Officer of Pfizer's Neuroscience Research Unit (RU), will be awarded the prestigious Thudichum Medal by the Biochemical Society, the U.K.'s largest discipline-based professional and academic society in the biosciences. The award is given to honor eminent scientists who have made outstanding contributions to neurochemistry and related subjects.
Ehlers has been recognized for his work in understanding the role of membrane trafficking and intracellular organelles in the regulation of neurotransmitter receptors and their functions at synapses. His research has revealed fundamental mechanisms by which neurons transport receptors and other molecular cargo, which has furthered the scientific understanding of brain plasticity and disorders of memory and cognition.
Ehlers was recruited to Pfizer in 2010 in order to improve Worldwide Research & Development's (WRD) ability to identify the best targets for Neuroscience drug development in areas including Alzheimer's disease, Parkinsonýs disease, schizophrenia, Huntington's disease and autism. Pfizer's Neuroscience RU is at the forefront of translating basic research discovery into the development of innovative medicines that improve the quality of lives for patients devastated by neurological, psychiatric, and neurodevelopmental illness.
"Neuroscience is one of our key focus areas and so it is critical to both the future of Pfizer, and the millions of patients who suffer from these debilitating conditions," said Rod MacKenzie, Group Senior Vice President, Head of PharmaTherapeutics Research & Development at Pfizer. "The latter has never been more true as some of our competitors leave the field. It is fabulous to have one of Pfizerýs scientists recognized in this way by his peers."
Bridging Academia and Industry
Prior to joining Pfizer in 2010, Ehlers spent 12 years as the George Barth Geller Professor of Neurobiology and a Howard Hughes Medical Institute Investigator at Duke University, where he uncovered core cellular machinery for brain cell plasticity and many fundamental mechanisms for neuronal communication.
The recruitment of Ehlers from Duke University was another important step in the company's strategy to break down the barriers between industry and academia and stimulate direct interactions between the company's scientists and researchers within the academic and medical community. In support of this effort, late last year Massachusetts Institute of Technology broke ground on the Neuroscience RU's new home on its campus in Cambridge's Kendall Square. The company's physical proximity to the medical R&D community in Massachusetts is designed to encourage Pfizer drug discovery scientists in WRD to develop deeper relationships with the best contemporary biologists and scientific minds.
Ehlers becomes one of 11 recipients of the Thudichum Medal — including two Nobel Prize winners — since its inception in 1974 (see sidebar). He will be presented with the Medal at a Biochemical Society conference next year, where he will deliver a Medal Lecture that will also be published in Biochemical Society Transactions.
The Biochemical Society promotes the advancement of the molecular biosciences, representing the interests of all those working in the sector and is is the largest discipline-based learned society in the biosciences with more than 5,500 members. The Society's award program recognizes scientists for the excellence of their work in a wide variety of fields of research and development and the profound implications their work has for the research community and society at large.