New Biomass Boiler System Shrinks
Sanford's Carbon Footprint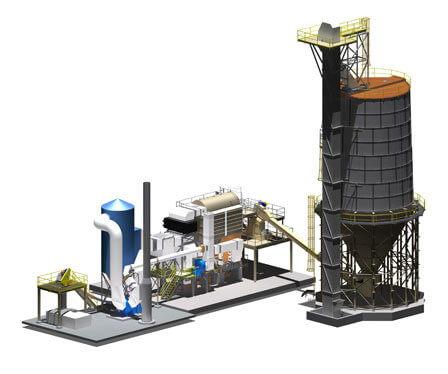 Pfizer Global Supply's site in Sanford, N.C., is taking a big step forward in shrinking its carbon footprint through a new biomass boiler system.
The boiler project, which was dedicated in a public ceremony earlier this summer, will use locally produced wood chips and wood waste from logging to generate steam and power later this year, according to John Farmer, Principle Plant Engineer.
"The Sanford Site Energy Team vetted many renewable energy options, including solar photovoltaic, solar thermal, wind and biofuel," Farmer said. "We found that the most promising technology uses woody biomass. North Carolina is rich in forest resources and logging continues to be a major industry in the state. This assures an economical supply of woody biomass without relying on 'crop' fuel."
Once completed, the project will reduce Sanford's carbon footprint by 9,979 metric tons of carbon dioxide (CO2) per year — about 22 percent of the site's total CO2 emissions.
The Sanford site broke ground on the biomass boiler in late 2010. It is slated to start producing steam in November of this year, with electricity generation following in January 2012.
Farmer said the technology was also attractive because biomass boilers behave much like conventional gas-/oil-fired boilers, having a similar turn-down ratio and response time to steam demand.
Biomass fuel is considered carbon neutral. It costs less than half as much as natural gas and one-ninth as much as fuel oil. The project will also benefit from both a North Carolina renewable energy tax credit and a U.S. federal investment tax incentive. Combined, these incentives will offset about 60 percent of the $7.9 million project cost.
The entire system will consist of a single 600 horsepower steam boiler producing 325 pounds per square inch of pressure, a 250 kilowatt-per-hour back-pressure steam turbine for generating electricity, a three-day supply fuel storage silo, a reclaimer (to receive biomass from trucks) and a bucket elevator.
Because of its size, the boiler is being erected first, with a building then constructed around it, Farmer said. The silo, which will be capable of containing a three-day supply of fuel, will stand about 85 feet high. The tip of the bucket elevator will be slightly over 102 feet tall, making it the tallest structure on site.
Biomass boilers of various sizes have been deployed at other Pfizer facilities, including Freiburg, Germany; Little Island, Ireland; and Thane, India.