New Solar Power System
Has Its Day in the Sun in Sicily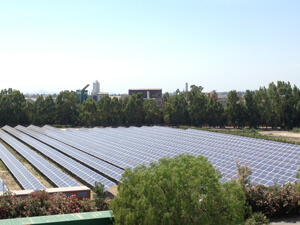 Pfizer's new solar power system in Catania, Sicily,
covers more than four acres at the site
In the shadow of Mount Etna on Sicily's east coast, Pfizer Global Supply's production facility in Catania is harnessing the power of the sun in a big way.
The facility, which manufactures animal and human health medicines, recently installed a new solar panel system — the largest of its kind in Pfizer Global Supply (PGS) — that will enable the plant to reduce annual energy purchases by 6 percent and carbon dioxide emissions by 630 tons.
In June, the system's first month of operation, the solar panels generated about 170 megawatt hours of electricity, enough to power 50 apartments for a year. This is in addition to 40 million kilowatt hours of energy the facility already co-generates on-site annually for its electrical, heating and cooling systems.
Pfizer has invested €2.2 million ($2.6 million) in the initiative under the Global Pfizer Energy and Climate Change Program, which seeks to reduce carbon dioxide emissions by adopting renewable energy sources and investing in energy conservation.
The photovoltaic structure at Catania is installed aboveground, covering a total area of 17,000 square meters (4.2 acres), and uses high-yield polycrystalline silicon photovoltaic modules with high-performance inverters. The system, which can produce 1.55 gigawatt hours of power annually, can be monitored continuously by the facility.
"Protecting the health and safety of our employees and respecting the environment are hallmarks of our plant," said Giuseppe Galizia, Catania Site Director. "We are continuously looking for solutions to help reduce our environmental impact and this new system will contribute to our ongoing efforts."
Besides Catania, energy conservation is a big focal point for PGS throughout Italy. Pfizer's Ascoli Piceno facility in central Italy has also constructed a similar solar power system that generates approximately 800 megawatt hours per year, and reduces annual carbon dioxide emissions by 350 tons, as well as high-efficiency heating systems.
Pfizer's Aprilia plant near Rome is co-generating power for electrical and heating needs and recently installed a new solar power system.