Nicotine Addiction
Maze Casts Dark Cloud Over Smoking in Russia
Pfizerýs interactive "Escape the Maze of Nicotine Addiction" exhibit cast a dark cloud over smoking habits in Kazan, the capital city of Russiaýs Republic of Tatarstan.
The exhibit, which addresses common smoking myths and focuses on smoking as a disease rather than a habit, was staged at a three-day Anti-Tobacco Forum at the Kazan Fair.
Organized by Tatarstanýs Ministry of Health, Kazan State Medical University, Kazan's Town Hall and the Research Institute of Mental Health, the exhibition was designed to discredit popular myths about smoking and smoking cessation and help smokers escape the maze of nicotine addiction.
Participants learned how to say goodbye to cigarettes by navigating an interactive maze containing information stands and screens featuring antismoking videos that dispelled barriers on the way to quitting smoking.
The exhibit, which appeared last fall in Moscow's Gorky Park, offered a site for training workshops. Visitors could also consult with a doctor about smoking cessation and see how smoking affects the body.
Smoking is a huge problem in Russia. Health officials estimate that 44 million people over the age of 15 — the equivalent of one-third of the countryýs adult population — smoke. In Tatarstan, the World Health Organization says at least 40 percent of adults are active smokers.
At a press conference on the opening day of the event, medical experts and government officials discussed the need for urgent measures to reduce tobacco consumption, including the development of a medical assistance system to help citizens quit smoking and treat nicotine addiction.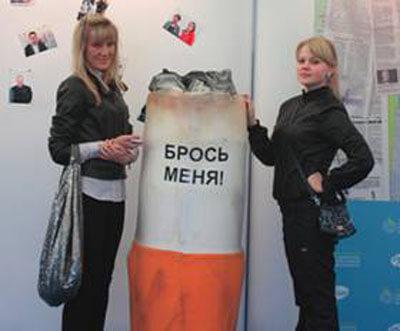 Visitors at Pfizerýs interactive smoking cessation exhibit
"To fight smoking is especially difficult because of numerous myths ingrained in the publicýs mind, such as 'smoking is just a bad habit' and 'willpower is enough to quit,'" said Vladimir Mendelevich, Professor, Director of the Research Institute of Mental Health, Chairholder at Kazan State Medical University. "In reality, nicotine addiction can be compared to heroin addiction. The World Health Organization and the medical community state that smoking is a recurrent, chronic disease that requires professional treatment."
Kazan will be hosting Universiade 2013, also known as the World University Games. A special focus of the forum was ensuring "tobacco free" zones at the games.
"While fully supporting the willingness of the government of the Republic of Tatarstan and Kazan City Administration to combat smoking, our interactive exhibit enables smokers to see beyond the myths surrounding smoking, and finally to find out about an effective method of fighting the addiction," said Fatima Abazova, Medical Affairs Team Leader for Pfizer Russia. "We strongly hope that by joining forces and with the active involvement of the medical community, we will be able to help the residents of the republic quit smoking."