Partnerships With
Disease Foundations Open New Avenues to Drug Discovery and Development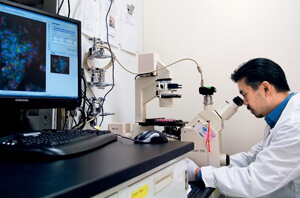 Partnerships With Disease Foundations Open New
Avenues to Drug Discovery and Development
Two recent collaborations demonstrate Pfizer's commitment to working with external partners to broaden its scientific expertise and accelerate the translation of science into treatments that can help patients.
This week, Pfizer announced a major expansion of the research partnership with Cystic Fibrosis Foundation Therapeutics (CFFT) that began with the company's acquisition of FoldRx Pharmaceuticals in 2010. Under the new six-year pre-clinical research agreement, CFFT, the nonprofit drug discovery and development affiliate of the Cystic Fibrosis Foundation, will invest up to $58 million to speed the discovery and development of new treatments for the most common mutation of cystic fibrosis, Delta F508.
The program's goal is to advance one or more drug candidates into the clinic by the end of the multiyear collaboration.
"Innovative collaborations between industry and patient organizations are increasingly critical to driving science and the business forward," said Jose-Carlos Gutierrez-Ramos, Senior Vice President, Pfizer BioTherapeutics Research and Development. "Sharing knowledge and resources allows us to expedite the drug discovery and development process with the goal of identifying novel therapies for the treatment of this devastating disease."
CTI Joins Forces With Alliance for Lupus Research
In another key partnership, Pfizer's Centers for Therapeutic Innovation (CTI) are working with the Alliance for Lupus Research (ALR) to discover new therapeutic options for patients living with this chronic autoimmune disease. As part of the deal, CTI and ALR will co-fund translational research projects led by academic medical centers from within the CTI network. The company anticipates that these projects will begin as early as the first half of 2013.
The partnership is designed to enable joint project teams, consisting of Pfizer scientists and academic researchers, to translate novel scientific ideas into therapeutics that address unmet medical need.
"Pfizer is advancing new medicines for people living with rare disease and is working with a number of important collaborators from academia, foundations and biotech companies," said Kevin Lee, Chief Scientific Officer, Pfizer Rare Disease Research Unit.