Passion for Olympics
Brings Out Best in Colleagues Across UK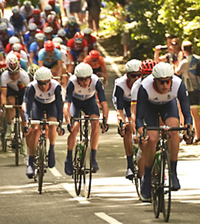 Olympic cyclers near Pfizer's Walton
Oaks site
British enthusiasm for the recent London Olympics was matched by Pfizer colleagues across the U.K., who found many ways to participate.
It all began with the Olympic torch procession, which toured the country and close to several Pfizer sites, where colleagues took time out to cheer as it passed. A group from the company's Walton Oaks facility volunteered to act as marshals and help control the crowds.
One colleague, Sam Whiting, had a very personal link with the procession: Her daughter, Elizabeth, carried the torch for part of its journey in memory of Whiting's father, Brian Wright, who died earlier this year. Wright was a major name in British cycling, as both promoter and mentor.
The Games themselves began with a spectacular show in the main arena. One of the featured performers was Pfizer's Carolyn Roberts-Griffiths, who has served as the "Carnival Queen" on several occasions in London's famous Caribbean-style Notting Hill Parade.
Wearing one of her own carnival costumes, Roberts-Griffiths danced around the stadium accompanied by a 50-piece steel band and dozens of other performers.
"It was an experience — really brilliant," she said. "The noise when you entered the stadium was just incredible."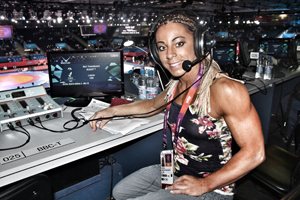 Evans, a Pfizer colleague in the U.K., provided comment-
ary on Olympic wrestling and weight-lifting events for
the BBC
When the competition kicked off, television viewers were soon hearing the voice of Pfizer's Non Evans, who is a highly accomplished sportswoman in her own right. She was invited by the BBC to be a commentator on wrestling and weightlifting, which she has competed in internationally.
"Day one was quite daunting, with so much to take in and so many athletes to remember, but it quickly settled into a routine, and I enjoyed every minute," Evans said. "The sport was fantastic. We saw lots of world records, in front of capacity crowds, and the athletes are a great bunch of people who I had the pleasure to meet and interview."
Crowds arriving at Olympic venues were greeted and guided by volunteers, including a number of colleagues.
"The Olympic Park was buzzing — every day felt special," said Pfizer's Andrew Gilkerson, who was based at the hockey and handball/modern pentathlon arenas.
"Right up to day 15, the energy, noise, expectations and celebrations were incredible," he added. "On most days, we welcomed about 300,000 into the Olympic Park. All the organization and effort, plus the enthusiasm of spectators, made the Olympic Park a very happy and safe environment despite the huge crowds."
Among those providing first aid cover was Pfizer's Steven Carter, who spent three days covering the men's triathlon and marathon swim and the women's 20km walk.
"The crowds built up quickly each day, until every viewing spot was taken," he said. "As start time approached, the buzz really started and each race began with a huge cheer."
It's not over yet. Additional events are planned to celebrate the Paralympics, which begin in London on Aug. 31.